Continental uzupełnia gamę opon do pojazdów ciężarowych o inteligentne opony iTyre z fabrycznie zainstalowanymi czujnikami ContiPressureCheck do natychmiastowego pomiaru poziomu ciśnienia i temperatury w oponie.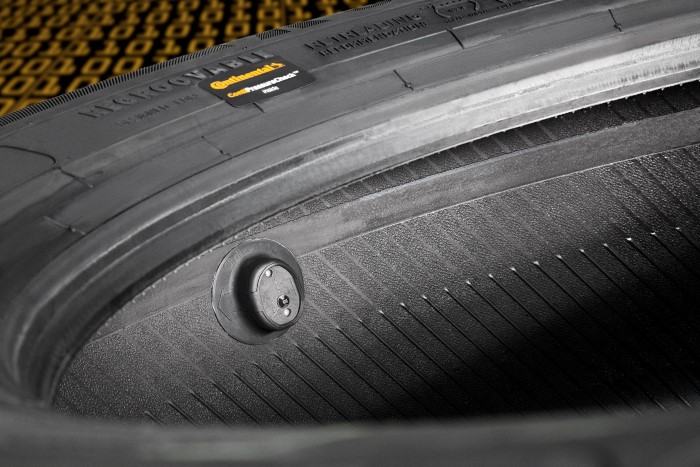 Continental wykorzystując najnowsze rozwiązania technologiczne i realizując oczekiwania branży transportowej, opracował nową oponę premium – iTyre. Nowość z zainstalowanymi fabrycznie czujnikami ContiPressureCheck do pomiaru ciśnienia i temperatury w oponach pozwoli operatorom flot utrzymywać wysoki poziom bezpieczeństwa i optymalizować koszty użytkowania opon. Obecnie iTyre są dostępne w 22 popularnych rozmiarach.
Zebrane ze wszystkich opon dane, dzięki czujnikom umieszczonym w iTyre, są na bieżąco przesyłane do centralnego odbiornika, który przetwarza informacje, a następnie zapisuje sygnały wysyłane przez czujniki i przesyła je dalej. Informacje, które kierowca może odczytać na wyświetlaczu deski rozdzielczej w kabinie samochodu, pozwalają mu w czasie rzeczywistym w pełni kontrolować stan ogumienia na wszystkich osiach.
System ContiPressureCheck wykorzystany w oponach iTyre jest kompatybilny z różnymi systemami telematycznymi, dzięki czemu dane pomiaru ciśnienia i temperatury są przesyłane do urządzeń zewnętrznych. W ten sposób operator floty ma natychmiastowy dostęp do przejrzystych informacji i może sprawniej zarządzać ogumieniem.
Opony iTyre z czujnikami ContiPressureCheck to nie tylko wysoki poziom kontroli i bezpieczeństwa. To także gwarancja obniżania zużycia paliwa, co zapewnia prawidłowe ciśnienie w oponie zmniejszające opory toczenia. Ponadto stała kontrola poziomu ciśnienia ma także pozytywny wpływ na dłuższą żywotność opon.
Gama opon iTyre będzie konsekwentnie poszerzana. Czujniki ContiPressureCheck można także zakupić osobno, w celu zainstalowania ich w już eksploatowanych oponach.
Opony iTyre do pojazdów ciężarowych dostępne są w poniższych modelach i rozmiarach:
| | |
| --- | --- |
| Conti EcoPlus | Conti Hybrid |
| Conti EcoPlus HS3 295/60 R 22.5 | Conti Hybrid HT3 445/45 R 19.5 M+S |
| Conti EcoPlus HD3 295/60 R 22.5 M+S | Conti Hybrid HS3 385/55 R 22.5 M+S |
| Conti EcoPlus HS3 315/60 R 22.5 | Conti Hybrid HT3 385/55 R 22.5 M+S |
| | Conti Hybrid HD3 295/60 R 22.5 M+S |
| | Conti Hybrid HD3 315/60 R 22.5 M+S |
| | Conti Hybrid HS3 385/65 R 22.5 M+S |
| | Conti Hybrid HT3 385/65 R 22.5 M+S |
| | Conti Hybrid HS3 315/70 R 22.5 M+S |
| | Conti Hybrid HD3 315/70 R 22.5 M+S |
| | Conti Hybrid HS3 295/80 R 22.5 M+S |
| | Conti Hybrid HS3 XL 295/80 R 22.5 M+S |
| | Conti Hybrid HD3 295/80 R 22.5 M+S |
| | Conti Hybrid 315/80 R 22.5 M+S |
| | Conti Hybrid HD3 315/80 R 22.5 M+S |
Opony iTyres do autobusów i autokarów dostępne są w poniższych modelach i rozmiarach:
Conti Urban

Conti CityPlus

Conti Coach

Conti Urban HA3
275/70 R 22.5 M+S

Conti CityPlus HA3
295/80 R 22.5 M+S

Conti Coach HA3
295/80 R 22.5 M+S

Conti UrbanScandinavia HA3 275/70 R 22.5 M+S

Conti UrbanScandinavia HD3 275/70 R 22.5 M+S
Źródło: Continental