Continental wprowadził dwie nowe linie opon na oś kierowaną i napędową. Linia Conti EfficientPro jest przeznaczona do autostradowego transportu dalekobieżnego oraz umożliwia uzyskanie maksymalnej efektywności paliwowej. Conti LightPro to gama przeznaczona do cystern do transportu ropy naftowej oferująca prawie o ok. 80kg większą nośność cystern.
Continental podczas tegorocznych Targów IAA zaprezentował opony do autostradowego transportu dalekobieżnego oraz opony o ograniczonej masie wyłącznie do użytku w cysternach do transportu ropy naftowej. Nowości Continental to istotny krok w kierunku wspierania producentów pojazdów we wdrażaniu unijnej dyrektywy dotyczcej efektywności paliwowej, która przewiduje jej wzrost w samochodach ciężarowych o 20% do 2020 roku.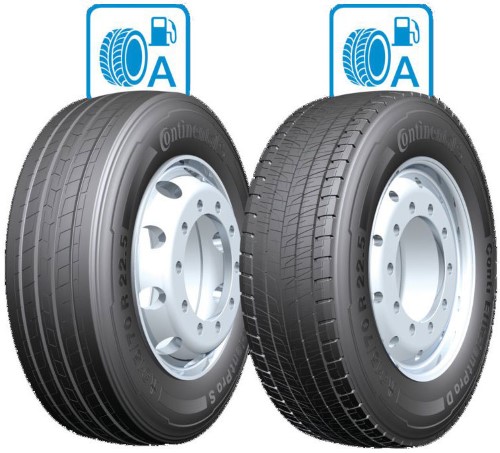 Conti EfficientPro z gwarancją najwyższej efektywności paliwowej
Conti EfficientPro na oś kierowaną i napędową to opony, które opracowano specjalnie do transportu dalekobieżnego. Znacznie ograniczone opory toczenia, w porównaniu z modelem Conti EcoPlus, gwarantują zużycie paliwa obniżone o 0,64 litra na 100 kilometrów. Co oznacza, że przy rocznym przebiegu 120 000 kilometrów, dzięki oponom Conti EfficientPro, flota może zaoszczędzić około 750 litrów paliwa rocznie i tym samym, zmniejszyć roczną emisję CO2o ponad 2 tony.
Użycie specjalnych mieszanek gumowych, zastosowanie wielowarstwowej konstrukcji bieżnika oraz zoptymalizowane opory toczenia, pozwoliły na przyznanie Conti EfficientPro oceny "A" na unijnej etykiecie, co oznacza najwyższy stopień efektywności paliwowej. Dlatego firmy transportowe montujące opony Conti EfficientPro na osi kierowanej i napędowej oraz oponę Conti EcoPlus HT3 na osi naczepowej, mogą wyposażyć swoje pojazdy na wszystkich osiach w ogumienie z oceną "A" na unijnej etykiecie.
Aktualnie opona Conti EfficientPro jest wykorzystywana głównie na pierwszy montaż. Na rynku wtórnym będzie dostępna w pierwszej połowie 2017 roku.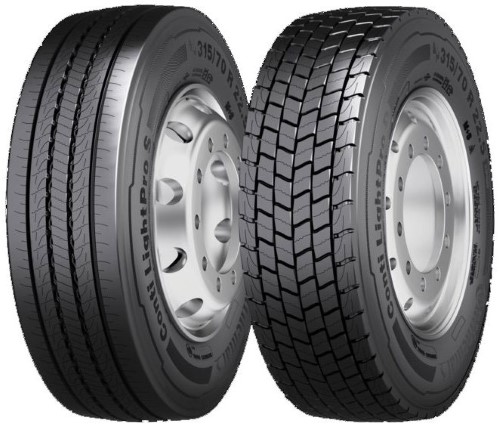 Conti LightPro w transporcie paliw
Seria ogumienia Conti LightPro to pierwsze opony Continental o ograniczonej masie opracowane specjalnie do użytku w cysternach do transportu cieczy, a w szczególności paliw. W przypadku tego segmentu transportu kluczowe jest bezpieczeństwo. Lżejsze opony oznaczają znaczne powiększenie nośności, a dzięki niższej masie własnej opon, cysterny mogą przewieźć więcej cieczy bez przekraczania dopuszczalnej masy całkowitej. Po zamontowaniu na wszystkich osiach (kierowanej, napędowej i na osi naczepowej), opony Conti LightPro ograniczają masę całkowitą pojazdu o około 80 kg w stosunku do opon Conti Hybrid. Wyższa ładowność i niższe zużycie paliwa zwiększają więc efektywność kosztową nawet o 900 EUR rocznie na przestrzeni całego okresu eksploatacji ogumienia.
Większą redukcję masy można uzyskać stosując opony Conti LightPro w połączeniu z amortyzatorami pneumatycznymi Continental o ograniczonej masie. Formowane wtryskowo tłoki dodatkowo zwiększają nośność o około 12 kilogramów na każdą z osi, >a w porównaniu z tradycyjnymi tłokami stalowymi wykorzystanie specjalnego tworzywa sztucznego oznacza nawet o 75% mniejszą masę. Co więcej, innowacyjna konstrukcja zapewnia doskonały komfort jazdy oraz ułatwia ich montaż w pojeździe.
Takie amortyzatory pneumatyczne o ograniczonej masie są już używane jako oryginalne wyposażenie cystern samochodowych. Niektóre typy amortyzatorów pneumatycznych firmy Continental są także dostępne jako części zamienne.
Źródło: Continental