Yanosik to nowoczesny system wzajemnej wymiany informacji pomiędzy kierowcami, który poinformuje Cię o zbliżających się kontrolach prędkości, wypadkach czy remontach drogowych. Z tego rozwiązania skorzystało już ponad 5 000 000 kierowców w Polsce. Dzięki nim powstała największa i najskuteczniejsza sieć wymiany informacji drogowej.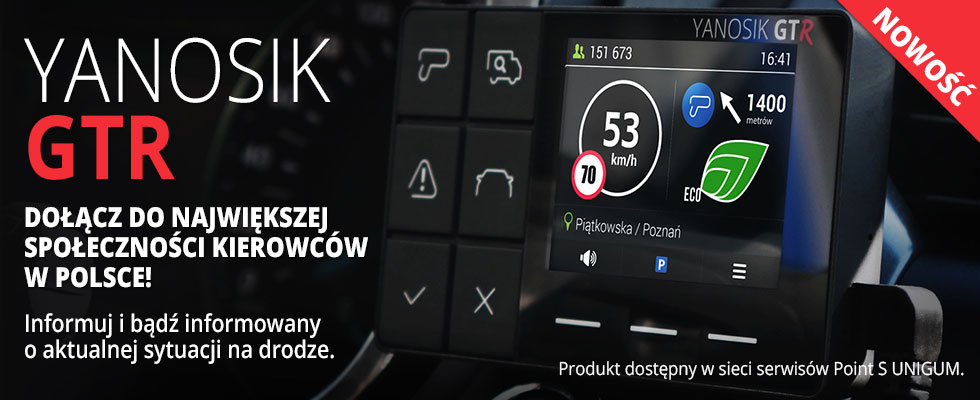 System na bieżąco zbiera i weryfikuje informacje z polskich dróg. Dzięki współpracy wielomilionowej społeczności kierowców zgłoszenia w systemie są aktualne i wiarygodne. Yanosik posiada wbudowany system antyspamowy, dzięki czemu do kierowców trafiają tylko istotne informacje.
Ecodriving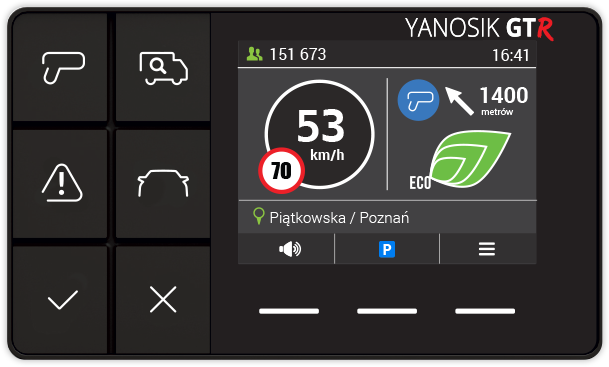 Stosowanie się do zasad ekojazdy pozwala zaoszczędzić nawet do 20% zużywanego paliwa. Są to zauważalne oszczędności w budżetach domowych osób, dla których samochód stanowi główny środek transportu. Yanosik GTR został wyposażony we wskaźnik ekojazdy, dzięki czemu na bieżąco będziesz mógł monitorować swój styl jazdy i w razie konieczności odpowiednio go modyfikować.
Strefy parkingowe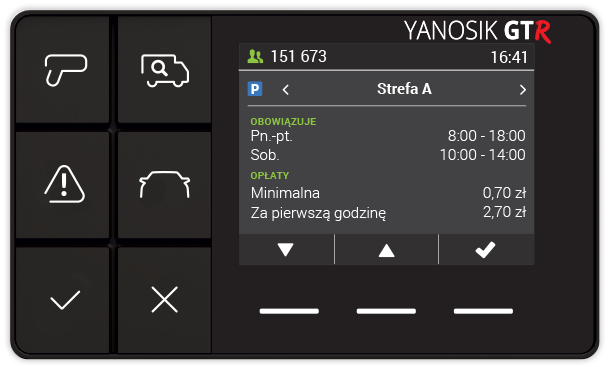 Od dziś, bez konieczności wysiadania z samochodu, dowiesz się, czy przebywasz w strefie płatnego parkowania, czy w danych godzinach obowiązują opłaty i ile wynoszą.
Ograniczenia prędkości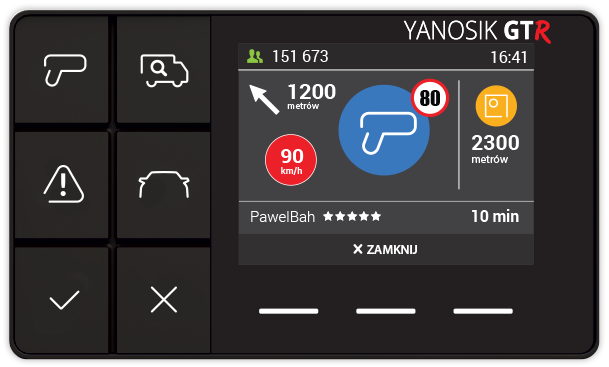 Zbliża się pomiar prędkości, a Ty przeoczyłeś znak i zastanawiasz się, czy jedziesz prawidłowo? Od teraz to nie problem - Yanosik GTR posiada wbudowaną bazę obowiązujących ograniczeń prędkości. Rzut okiem na ekran Yanosik GTR i już wiesz, jakie ograniczenie obowiązuje na danym odcinku oraz czy aby przypadkiem nie poruszasz się zbyt szybko (czerwony komunikat).
Specyfikacja


Yanosik GTR to nie tylko największa społeczność i aktualne informacje drogowe, to również niezawodność, solidne wykonanie i ergonomiczne kształty. Interfejs został zaprojektowany z myślą o kierowcach - rzut oka wystarczy, aby odczytać istotne informacje, a fizyczna klawiatura sprawia, że urządzenie można obsługiwać bez odrywania wzroku od drogi.
Jesteś fanem dwóch kółek? Nic nie stoi na przeszkodzie, abyś zabrał swojego Yanosika GTR na przejażdżkę. Dzięki fizycznym klawiszom można go obsługiwać w rękawiczkach, a specjalnie przygotowany interfejs w wersji na motocykl sprawi, że żaden komunikat nie umknie Twojej uwadze.
Yanosik GTR dostępny jest w sieci serwisów Point S UNIGUM
Źródło: Neptis