Pierwsza opona letnia posiadająca jednocześnie homologację zimową Michelin CrossClimate jest dostępna w kolejnych nowych rozmiarach, a od września pojawi się również w wersji do aut segmentu SUV. Michelin CrossClimate tworzy nową innowacyjną kategorię opon łączącą technologie ogumienia zimowego i letniego, co do tej pory uważano za niemożliwe.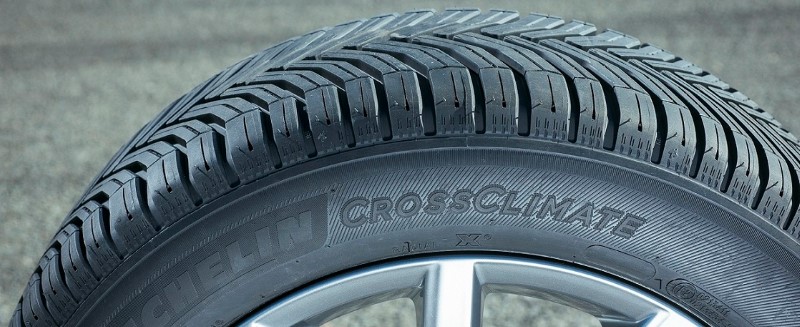 Po rozszerzeniu gamy kierowcy samochodów osobowych mogą wybierać spośród 37 wersji w rozmiarach od 14" do 18", zaś właściciele SUV-ów – spośród 6 wersji od 17" do 19".
W przeciwieństwie do opon całorocznych, których osiągi latem i zimą są wynikiem technicznego kompromisu, Michelin CrossClimate. w teście przyczepności na mokrej nawierzchni uzyskała najwyższą klasę "A" zarówno wg kryteriów oceny opon letnich, jak i zimowych.
Opona dostosowuje swoje właściwości do panujących warunków pogodowych dzięki zastosowaniu nowatorskiej konstrukcji bieżnika i wykorzystaniu inteligentnych elastomerów.
Z myślą o kierowcach różnych modeli aut Michelin poszerza gamę Michelin CrossClimate. Opona jest już dostępna w rozmiarach od 14'' do 18'', a od września – także w wersji do najpopularniejszych aut SUV w rozmiarach od 17" do 19". W efekcie w linii znajdzie się 37 rozmiarów do samochodów osobowych i 6 rozmiarów do SUV-ów.
Opona została poddana testom i ocenom przez niezależne organizacje TÜV SÜD Product Service, DEKRA Test Center uraz UTAC-CERAM Group. Potwierdziły one najwyższe osiągi – zarówno letnie, jak i zimowe – oraz przewagę nad oponami całorocznymi dostępnymi na rynku. Prymat Michelin CrossClimate był widoczny między innymi w kluczowym dla bezpieczeństwa obszarze hamowania na suchej nawierzchni.
Osiągi uzyskiwane przez nową oponę Michelin CrossClimate to wynik połączenia trzech zaawansowanych technologii.
1. Innowacyjna mieszanka bieżnika:
- Powierzchnia bieżnika jest wyjątkowo elastyczna, dzięki czemu może przylegać do najmniejszych nierówności nawierzchni we wszystkich warunkach – na drodze suchej, mokrej i pokrytej śniegiem.
- Opona ma niskie opory toczenia.
2. Unikatowe połączenie kierunkowej rzeźby bieżnika z niestandardowym położeniem samoblokujących się lameli 3D:
- Lamele 3D biegnące wzdłuż klocków bieżnika mają położenie typowe dla opony letniej, a jednocześnie cechuje je konstrukcja i skomplikowana geometria lameli zimowych Michelin. Lamele są pofalowane, a ich szerokość się zmienia, co w warunkach zimowych powoduje efekt "pazura" i wczepianie się lameli w śnieg oraz zwiększenie trakcji.
- Kierunkowa rzeźba ze zmiennymi kątami położenia wydłużonych klocków optymalizuje przyczepność na śniegu.
- Pionowa i pozioma falistość lameli wytwarza efekt samoblokowania.
3. Innowacyjne połączenie klocków bieżnika o ściętych krawędziach z lamelami o wysokich osiągach zapewnia maksymalny kontakt z powierzchnią drogi, co zwiększa efektywność hamowania na suchych nawierzchniach. Jednoczesne zastosowanie innowacyjnych lamelek o pełnej głębokości zapewnia doskonałe hamowanie i trakcję na śniegu.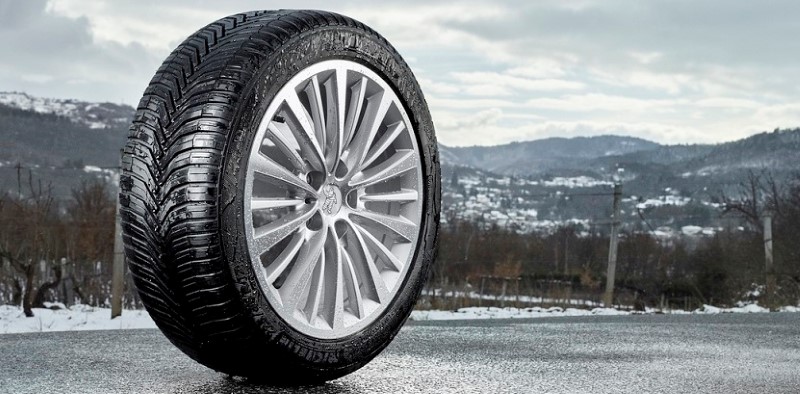 Michelin CrossClimate daje początek nowej kategorii ogumienia. Nie jest bowiem oponą całoroczną (o przeciętnych osiągach latem i zimą), lecz oponą letnią premium z osiągami zimowymi na najwyższym poziomie. Jej konstrukcja odpowiada na potrzeby kierowców sprawdzone przez niezależne instytucje badawcze. Jest też odpowiedzią na ocieplający się klimat w Europie. Michelin CrossClimate to opona dla kierowców, którzy chcą się czuć bezpiecznie podczas jazdy na suchych i mokrych nawierzchniach latem oraz wtedy, gdy okresowo warunki zmienią się na zimowe.
Każdego roku Michelin inwestuje ponad 640 milionów euro w badania i rozwój, przeprowadza 75 tys. testów wśród kierowców na całym świecie i zasięga opinii 11 tys. osób kupujących opony.
Jak powstała opona Michelin CrossClimate?
7 – liczba krajów, w których oponę testowano: Niemcy, Kanada, Finlandia, Francja, Polska, Hiszpania i Szwecja.
36 – liczba miesięcy potrzebnych do zaprojektowania opony, od czystej kartki papieru po oficjalną prezentację 2 marca 2015 roku. Intensywne prace trwały tylko 3 lata, podczas gdy zwykle trwają 4 lata i 8 miesięcy.
70 – liczba stopni Celsjusza określająca zakres temperatur, w których testowano oponę – ekstremalne wartości wahały się od minus 30° C do plus 40° C.
150 – liczba inżynierów i ekspertów, którzy pracowali nad projektem, testowaniem, industrializacją i produkcją Michelin CrossClimate.
Ponad 1000 – liczba testów laboratoryjnych, podczas których badano wszystkie elementy opony.
5 milionów – liczba kilometrów przejechanych w czasie testów badających dynamikę, przyczepność i wytrzymałość. To oznacza, że podczas testów samochody na oponach Michelin CrossClimate przejechały ziemię wokół równika 125 razy.
Michelin CrossClimate to przykład zastosowania idei Michelin Total Performance, czyli połączenia wszystkich osiągów opony na wysokim poziomie. Oznacza to, że podnoszenie jednego parametru opony nigdy nie wiąże się z pogorszeniem innych osiągów.
Źródło: Michelin