Marka Kleber przedstawia nową oponę całoroczną KLEBER Quadraxer 2, która została stworzona z myślą o kierowcach ceniących swój komfort oraz oczekujących pewności prowadzenia niezależnie od warunków na drodze.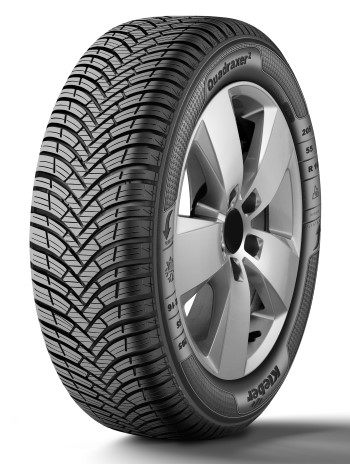 Opona całoroczna KLEBER Quadraxer 2 pozwala ograniczyć koszty i czas związane z sezonową wymianą ogumienia, a jednocześnie zapewnia bezpieczeństwo w czasie jazdy niezależnie od pogody panującej o danej porze roku. KLEBER Quadraxer 2 oferuje kierowcom kluczowe osiągi przy zachowaniu rozsądnej ceny:
Zwiększone bezpieczeństwo na mokrej nawierzchni potwierdzone kategorią B według europejskiego systemu oceny, co udało się zaledwie kilku modelom opon wielosezonowych. Droga hamowania została skrócona o 1,6 m, a ryzyko aquaplaningu zmniejszone dzięki kierunkowej rzeźbie bieżnika o układzie V i kanałom rynnowym Toboggan, które ułatwiają odprowadzanie wody.
Zwiększone bezpieczeństwo na suchej nawierzchni z drogą hamowania krótszą o 3,5 m w porównaniu do opony KLEBER poprzedniej generacji dzięki zastosowaniu lameli Flexing Points optymalizujących powierzchnię styku opony z nawierzchnią.>p
Zwiększone bezpieczeństwo na śniegu dzięki zmienionemu ukierunkowaniu lameli, co zapewnia skuteczne ruszanie z miejsca i hamowanie na zaśnieżonych nawierzchniach. Osiągi te potwierdza oznaczenie 3PMSF (płatek śniegu wpisany w górę o 3 szczytach).
Zwiększone o około 9 miesięcy przebiegi w porównaniu do opon konkurencyjnych.
KLEBER Quadraxer 2 to odpowiedź na potrzeby kierowców reprezentujących coraz większą grupę konsumentów, którzy co roku decydują się na zakup około 53 milionów opon ze średniej półki. Ponadto popularność ogumienia całorocznego systematycznie rośnie w Europie i w 2014 r. osiągnęła poziom 10 milionów sprzedanych egzemplarzy. Dla porównania w 2012 r. była to mniej niż połowa tego wyniku.
Marce KLEBER zaufali już tacy producenci motoryzacyjni jak Citroën czy Peugeot, którzy zdecydowali się na montowanie opon KLEBER w ramach oryginalnego wyposażenia w kilku swoich modelach. Ponadto w opony KLEBER zostaną zaopatrzone wszytskie pojazdy oficjalnie obsługujące tegoroczny wyścig Tour de France.
KLEBER Quadraxer 2 jest dostępna w sprzedaży od maja 2016 r. w rozmiarach 17 cali i wyższych.
Marka KLEBER należy do portfolio Grupy Michelin.
Źródło: Michelin