Opona Conti Hybrid HT3 w rozmiarze 445/45 R 19,5, została nagrodzona w prestiżowym konkursie Red Dot Design Award. Uznanie jury zdobyło doskonałe wzornictwo oraz innowacyjna konstrukcja niskoprofilowej opony do przyczep i naczep. Wydłużona żywotność i o 15% mniejsze opory toczenia Conti Hybrid HT3 gwarantują oszczędność paliwa zarówno w transporcie regionalnym, jak i długodystansowym.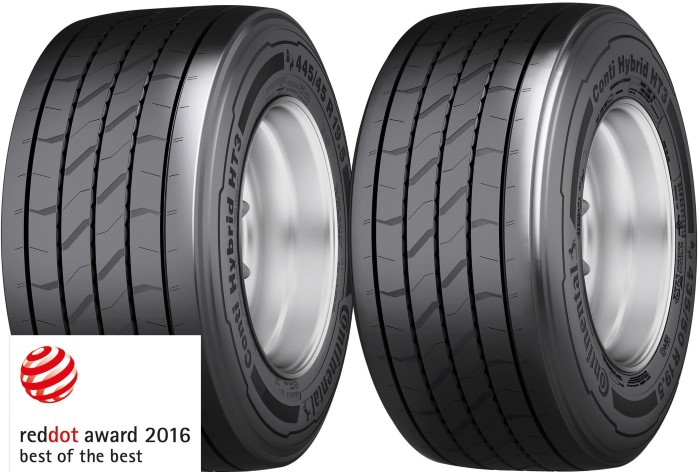 Podążając za sukcesem w konkursie iF Design, opona Continental do przyczep i naczep, zdobyła kolejną nagrodę, tym razem w niemieckim konkursie wzornictwa przemysłowego Red Dot Design Award. Międzynarodowe jury wyróżniło niskoprofilową oponę Conti Hybrid HT3 w rozmiarach 445/45 R 19,5 oraz 435/50 R 19,5 za jakość wzornictwa oraz nowatorskie rozwiązania konstrukcyjne. Conti Hybrid HT3 to opona premium dla pojazdów ciężarowych o dużej ładowności. Jest ona obecnie jedną z najbardziej nagradzanych opon stosowanych w przyczepach.
Nagroda "Red Dot: Best of the Best" przyznana oponie Conti Hybrid HT3 w rozmiarach 445/45 R 19,5 oraz 435/50 R 19,5 potwierdza utrzymanie najwyższych standardów, tak ważnych dla nas w procesie doskonalenia opon. Opony zostały wysoko ocenione przez niezależne jury – 41 międzynarodowych ekspertów, którzy docenili ich innowacyjność, wysoki poziom jakości, funkcjonalność oraz ograniczony wpływ na środowisko naturalne. Jesteśmy zaszczyceni, że nasze starania zostały docenione w tak prestiżowym konkursie - powiedział Constantin Batsch, Wiceprezes Działu Opon do Pojazdów Ciężarowych Continental na region EMEA.
Nagrodzona opona charakteryzuje się wysokim indeksem nośności oraz maksymalnym przebiegiem. Zoptymalizowane opory toczenia pozwoliły na zakwalifikowanie opony do unijnej klasy "B" w zakresie zużycia paliwa. Dzięki temu, Conti Hybrid HT3 umożliwia oszczędność paliwa, zarówno w transporcie regionalnym jak i długodystansowym. Zoptymalizowany kontur opony oraz równy rozkład sił nacisku sprawiają, że zużywa się ona w sposób równomierny, co ma przełożenie na wydłużenie jej żywotności. Dodatkowo, dzięki zastosowaniu nadającego się do ponownego bieżnikowania karkasu, jej wykorzystanie w pojazdach ciężarowych wpływa na rentowność transportu towarowego oraz na ograniczenie niekorzystnego wpływu na środowisko naturalne.
Red Dot Design Award jest jednym z najbardziej prestiżowych konkursów wzornictwa na świecie. Jego zadaniem jest wyłonienie najlepiej zaprojektowanych przedmiotów użytku przemysłowego. Nagroda w tym plebiscycie jest postrzegana na arenie międzynarodowej jako uznanie za wybitne wzornictwo produktu. Do konkursu prowadzonego przez Centrum Designu w Nadrenii Północnej od 1955 roku, każdego roku wpływa ponad 17 000 zgłoszeń. Zwycięskie projekty zostaną wystawione w Muzeum Red Dot Design a także zaprezentowane podczas uroczystej gali w Teatrze Aalto w Essen, która odbędzie się 4 lipca.
Źródło: Continental