Podczas największych targów motoryzacyjnych w Polsce – Poznań Motor Show 2016 – Michelin zaprezentuje innowacyjne opony skonstruowane na bazie doświadczeń pochodzących ze sportów motorowych.
Zastosowanie najnowocześniejszych technologii pozwala na precyzyjne reakcje opon w różnych warunkach drogowych i pogodowych. Rewolucyjne rozwiązania Michelin wyznaczają zmiany w kategorii opon, których celem jest zwiększenie bezpieczeństwa podróżujących. W Poznaniu odbędzie się polska premiera opony Michelin Pilot Sport 4 z ultrareakcyjnym bieżnikiem oraz prezentacja pierwszej opony letniej z homologacją zimową Michelin CrossClimate.
Michelin zaprezentuje swoje inteligentne opony podczas dnia prasowego 31 marca (czwartek) 2016 r. na stoisku nr 9 w pawilonie nr 3. Spotkanie poprowadzi Krzysztof Hołowczyc, jeden z najbardziej utytułowanych polskich kierowców rajdowych, wielokrotny Mistrz Polski i Europy oraz pierwszy Polak, który stanął na podium Rajdu Dakar. Początek spotkania o godzinie 15:40.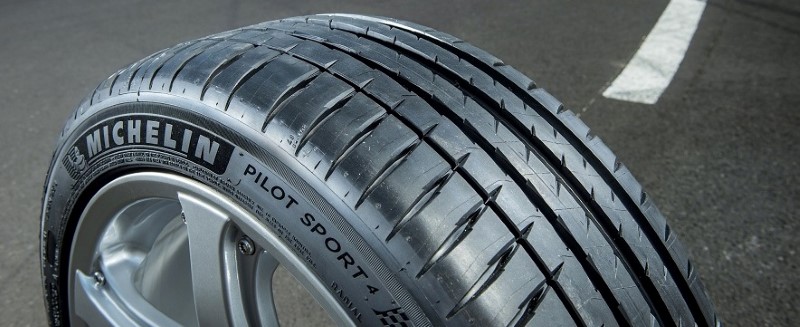 Ultrareakcyjny bieżnik Michelin Pilot Sport 4 powstał na bazie opony Michelin Pilot Sport EV – stworzonej na Mistrzostwa Formuły E, gdzie startują całkowicie elektryczne bolidy. Opona błyskawicznie reaguje na zmianę kierunku jazdy i dostosowuje się do nawierzchni.
Jest to zasługa nowej technologii Michelin Dynamic Response, czyli opasania wykonanego z hybrydowego połączenia aramidowych i nylonowych wzmocnień tekstylnych, które umożliwia precyzyjne przenoszenie reakcji kierowcy na drogę. Wysokiej gęstości włókna są pięciokrotnie bardziej odporne na naprężenia niż stal, a jednocześnie ekstremalnie lekkie. Są one w stanie sprostać działaniu siły odśrodkowej przy wysokich prędkościach, zapewniając utrzymanie optymalnej powierzchni styku opony z nawierzchnią, dzięki czemu bieżnik nieustannie dostosowuje się do drogi.
Michelin Pilot Sport 4 jest przeznaczona zarówno do samochodów sportowych, jak i popularnych aut osobowych. Podczas jej projektowania inżynierowie Michelin wykorzystali doświadczenia zdobyte podczas tworzenia opon sportowych, a także blisko współpracowali z konstruktorami marek BMW, Mercedes, Audi i Porsche. Michelin Pilot Sport 4 została stworzona, aby wykorzystać pełną moc modeli sportowych i ich osiągnięć.
Inną wyjątkową cechą opony Michelin Pilot Sport 4 jest jej wygląd będący zasługą nowatorskiej technologii grawerowania form o nazwie Velvet. Laserowe grawerowanie wzorów na powierzchni boków form znaczne zwiększa kontrast logo Michelin i nazwy gamy. Dodatkowo guma załamuje światło w specyficzny sposób, przez co opona wygląda jak wykonana z aksamitu oraz sprawia takie wrażenie również w dotyku.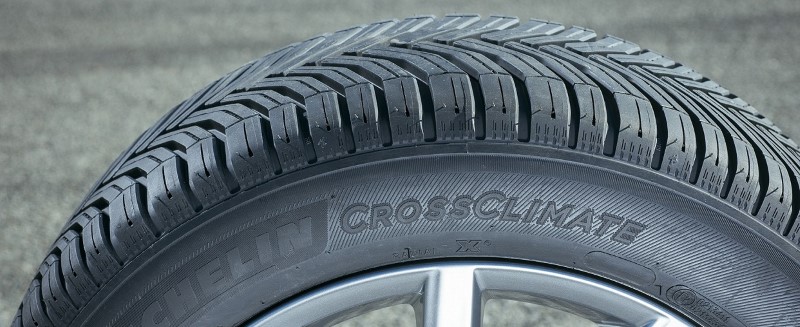 Pierwsza opona letnia posiadająca jednocześnie homologację zimową Michelin CrossClimate to nowa i innowacyjna kategoria opon, łącząca technologie ogumienia zimowego oraz letniego, co do tej pory uważano za niemożliwe. Po rozszerzeniu gamy kierowcy samochodów osobowych mogą wybierać spośród 37 wersji w rozmiarach od 14" do 18", zaś właściciele SUV-ów – spośród 6 wersji od 17" do 19".
W przeciwieństwie do opon całorocznych, których osiągi latem oraz zimą są wynikiem technicznego kompromisu, Michelin CrossClimate w teście przyczepności na mokrej nawierzchni uzyskała najwyższą klasę "A" zarówno wg kryteriów oceny opon letnich, jak i zimowych.
Innowacyjna opona Michelin dostosowuje swoje właściwości do panujących warunków pogodowych dzięki zastosowaniu nowatorskiej konstrukcji bieżnika i wykorzystaniu inteligentnych elastomerów.
Z myślą o kierowcach różnych modeli aut, Michelin poszerza gamę Michelin CrossClimate. Od połowy roku opona będzie dostępna w rozmiarach od 14'' do 18'', a od września 2016 roku – także w wersji do najpopularniejszych aut SUV w rozmiarach od 17" do 19". W efekcie w linii znajdzie się 37 rozmiarów do samochodów osobowych i 6 rozmiarów do SUV-ów.
Opona została poddana testom i ocenom przez niezależne organizacje TÜV SÜD Product Service, DEKRA Test Center uraz UTAC-CERAM Group. Potwierdziły one najwyższe osiągi – zarówno letnie, jak i zimowe – oraz przewagę nad oponami całorocznymi dostępnymi na rynku. Prymat Michelin CrossClimate był widoczny między innymi w kluczowym dla bezpieczeństwa obszarze hamowania na suchej nawierzchni.
Osiągi uzyskiwane przez nową oponę Michelin CrossClimate to wynik połączenia trzech zaawansowanych technologii.
1. Innowacyjna mieszanka bieżnika:
- Powierzchnia bieżnika jest wyjątkowo elastyczna, dzięki czemu może przylegać do najmniejszych nierówności nawierzchni we wszystkich warunkach – na drodze suchej, mokrej i pokrytej śniegiem.
- Opona ma niskie opory toczenia.
2. Unikatowe połączenie kierunkowej rzeźby bieżnika z niestandardowym położeniem samoblokujących się lameli 3D:
- Lamele 3D biegnące wzdłuż klocków bieżnika mają położenie typowe dla opony letniej, a jednocześnie cechuje je konstrukcja i skomplikowana geometria lameli zimowych Michelin. Lamele są pofalowane, a ich szerokość się zmienia, co w warunkach zimowych powoduje efekt "pazura" i wczepianie się lameli w śnieg oraz zwiększenie trakcji.
- Kierunkowa rzeźba ze zmiennymi kątami położenia wydłużonych klocków optymalizuje przyczepność na śniegu.
- Pionowa i pozioma falistość lameli wytwarza efekt samoblokowania.
3. Innowacyjne połączenie klocków bieżnika o ściętych krawędziach z lamelami o wysokich osiągach zapewnia maksymalny kontakt z powierzchnią drogi, co zwiększa efektywność hamowania na suchych nawierzchniach. Jednoczesne zastosowanie innowacyjnych lamelek o pełnej głębokości zapewnia doskonałe hamowanie i trakcję na śniegu.
Michelin CrossClimate daje początek nowej kategorii ogumienia. Jej konstrukcja spełnia oczekiwania kierowców sprawdzone przez niezależne instytucje badawcze. Jest też odpowiedzią na ocieplający się klimat w Europie. Michelin CrossClimate to opona dla kierowców, którzy chcą się czuć bezpiecznie podczas jazdy na suchych i mokrych nawierzchniach latem oraz wtedy, gdy okresowo warunki zmienią się na zimowe.
Każdego roku Michelin inwestuje ponad 640 milionów euro w badania i rozwój, przeprowadza 75 tys. testów wśród kierowców na całym świecie i zasięga opinii 11 tys. osób kupujących opony.
Źródło: Michelin