Najnowsza opona Continental SportContact 6 została stworzona z myślą o właścicielach aut o wysokich osiągach. Dzięki ulepszonej mieszance oraz włóknie wzmacniającym Aralon 350, nowa sportowa opona gwarantuje maksymalną przyczepność, kontrolę i stabilność, a także bezpieczeństwo prowadzenia nawet do 350 km/h!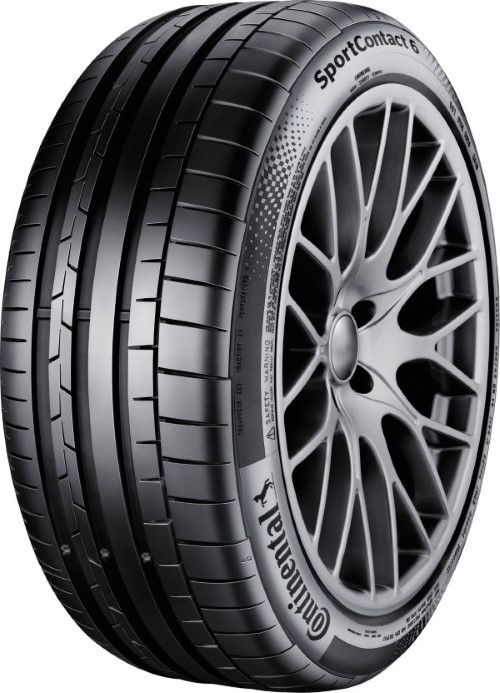 Ulepszona mieszanka dla lepszej przyczepności
SportContact 6 została opracowana z wykorzystaniem wielu nowatorskich rozwiązań. Pierwszym z nich jest udoskonalenie przez konstruktorów Continental mieszanki bieżnikowej "Black Chili". Dzięki niej nowa opona jest nie tylko odpowiednio sztywna, ale także doskonale dopasowuje się do nawierzchni. W trakcie jazdy bieżnik z ulepszoną mieszanką zapewnia wyższą przyczepność opony do nawierzchni, działając jak małe przyssawki na poziomie nanoskopowym. Nowa opona zapewnia doskonałą przyczepność podczas hamowania,w zakrętach, czy przy gwałtownym przyspieszaniu, bez względu na warunki atmosferyczne.
Wspomagające bloki dla lepszej kontroli
Inżynierowie firmy zadbali również o lepszą kontrolę mocy w oponie, co było możliwe poprzez zastosowanie nowego wzoru bieżnika, opracowanego w technologii wektorowania sił (Force Vectoring). Dzięki niej opona SportContact 6 zapewnia precyzyjne prowadzenie i natychmiastową reakcję nawet przy niewielkich ruchach kierownicy. W nowej oponie zastosowano różne typy bieżnika wewnątrz, na zewnątrz i w środku czoła opony. W zależności od rozmiaru ogumienia, trzy lub cztery środkowe żebra, wraz z zewnętrznymi barkami opony, zapewniają poprzeczny transfer sił, co znacznie poprawia bezpośrednie przenoszenie ruchów kierownicy na nawierzchnię. W przypadku opon sportowych, podczas skręcania zewnętrzna część opony jest narażona na oddziaływanie większych sił, niż część wewnętrzna. Dlatego też bloki żeber w SportContact 6 zostały ułożone asymetrycznie – jedna strona jest zwrócona na zewnętrz auta, drugado wewnątrz, co podnosi ich stabilność. Podczas pracy nad krawędziami zewnętrznymi, projektanci Continental połączyli różne elementy bloków, aby uformować jedną, większą jednostkę. W ten sposób, większe bloki bieżnika znajdujące się na zewnątrz zostały połączone ze splecionymi elementami w drugim rzędzie, a to pozwoliło na wzajemne wspomaganie podczas pokonywania zakrętów.
Maksymalna stabilność dzięki Aralon 350
Nowa SportContact 6 została zatwierdzona do użytku przy prędkościach aż do 350 km/h. Oznacza to, że nie tylko wymaga się od niej doskonałych właściwości podczas hamowania, przyczepności i stabilności kierunkowej, ale także jej struktura musi być przystosowana do ekstremalnych prędkości i towarzyszącym im ogromnym siłom odśrodkowym. Dla zwiększenia ogólnej sztywności i wytrzymałości opony, inżynierowie Continental dodali nową warstwę wzmacniającą i umieścili ją tuż pod bieżnikiem. Struktura ta została zaprojektowana z włókien Aralon 350, które opracowano specjalnie dla opony SportContact 6. Jest to syntetyczny materiał, w którym dwie przędze wykonane z silnego aramidu zostają ciasno zaplecione za pomocą elastycznego nylonu. Konstrukcja działa jak dodatkowy pas stali i pozwala na zachowanie stabilnego kształtu bieżnika opony przy najwyższych prędkościach.
Doskonałe właściwości
Nowa opona Continental zastępuje ContiSportContact 5 P i jest dostępna w 41 rozmiarach, o średnicach od 19 do 23 cali. W porównaniu do poprzedniczki, SportContact 6 zapewnia poprawę właściwości w sześciu kluczowych obszarach. Precyzja kierowania w nowej oponie została podniesiona aż o 14%, podczas gdy ocena prowadzenia na suchej nawierzchni wzrosła o 11%. Jeśli chodzi o przyczepność, SportContact 6 notuje poprawę wyników na poziomie 4%, a całkowite charakterystyki przyczepności na mokrej nawierzchni, znajdują się o 2% powyżej, i tak wysokiego, poziomu poprzedniego modelu. Dodatkowo, szacowany okres użytkowania i komfort prowadzenia osiągnęły 7% poprawę.
Źródło: Continental