Jak wynika z badania przeprowadzonego przez Dział Opon firmy Continental w Wielkiej Brytanii, kierowcy mają świadomość braku wystarczających umiejętności prowadzenia samochodu. Co ważniejsze to właśnie błędy popełniane przez kierowców są główną przyczyną wypadków drogowych. Czy można temu zapobiec?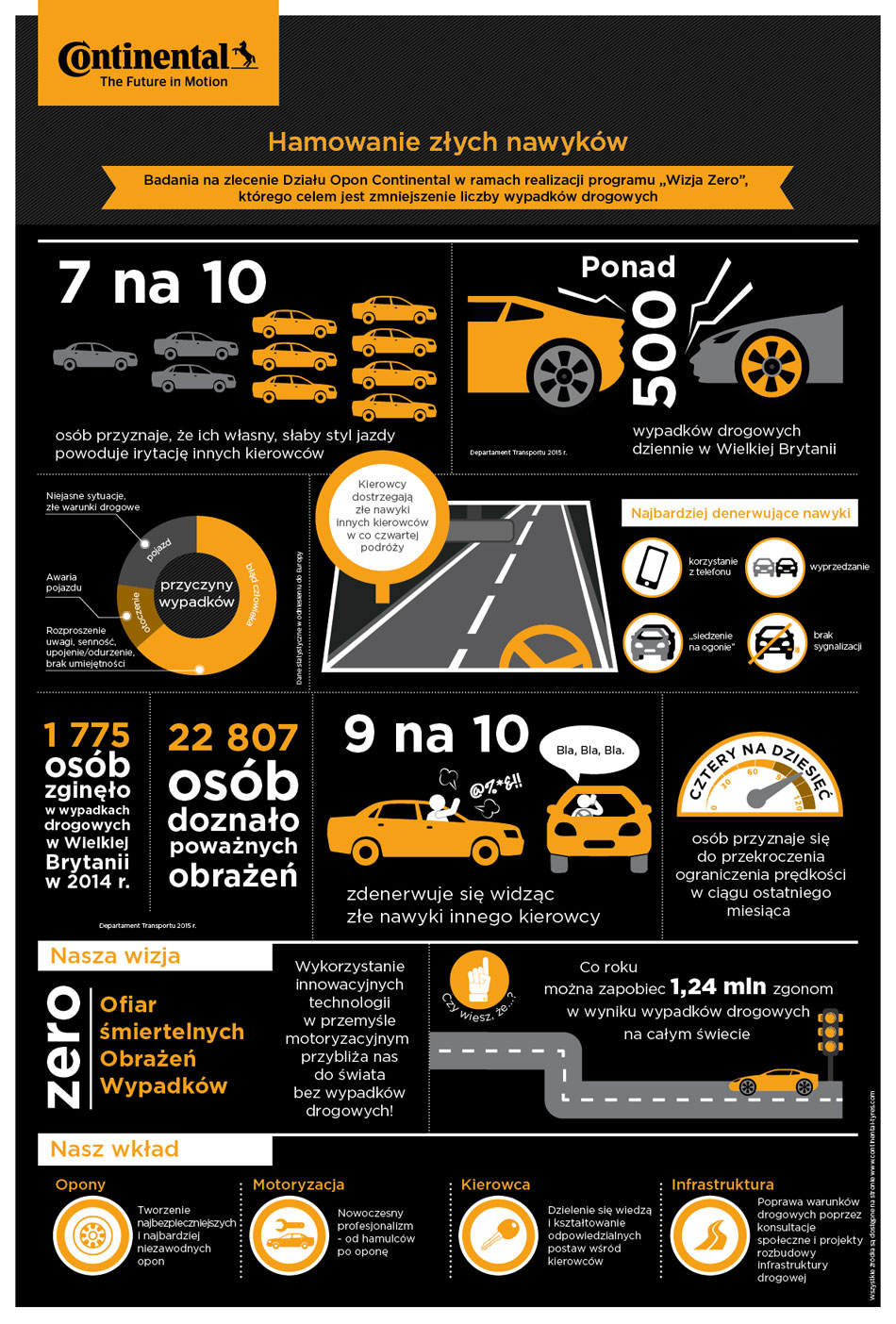 Celem badania było poszukiwanie rozwiązań poprawiających bezpieczeństwo na drogach i służących zmniejszeniu liczby wypadków drogowych. Z odpowiedzi 2 000 kierowców wynika, że trzy czwarte z ankietowanych postrzega niskie umiejętności prowadzenia pojazdu jako główne zagrożenie dla bezpieczeństwa na drodze i główną przyczynę irytacji uczestników ruchu podczas jazdy. Więcej niż siedmiu na dziesięciu przebadanych Brytyjczyków przyznaje, że ich własny styl jazdy samochodem irytuje innych kierowców. Mimo, iż respondentów denerwują nonszalanckie nawyki innych, często sami reagują na nie złością, a nawet jeszcze bardziej agresywną jazdą, która stwarza kolejne zagrożenia.
–Prowadzenie pojazdu jest złożonym zadaniem, które wymaga koncentracji. Wykorzystanie innowacyjnych technologii w przemyśle motoryzacyjnym przybliża nas do świata bez wypadków drogowych. Jest to część naszego długofalowego programu "Wizja Zero", w którym skupiamy się na zmniejszeniu liczby wypadków dzięki zastosowaniu przełomowych rozwiązań nie tylko w produkcji opon, ale także w dostarczaniu zaawansowanych systemów bezpieczeństwa montowanych w pojazdach– komentuje Mark Griffiths, rzecznik Continental Tyres w Wielkiej Brytanii.
Badanie wykazało również, że w co czwartej podróży dostrzegamy złe nawyki innych za kierownicą, z których do najgorszych należą: korzystanie z telefonu komórkowego, niezachowanie bezpiecznej odległości pomiędzy samochodami, tzw. "siedzenie na ogonie", niebezpieczne wyprzedzanie oraz brak sygnalizowania planowanego manewru. Mimo świadomości podejmowanego ryzyka, 39 procent kierowców przyznaje się do przekroczenia ograniczenia prędkości w ciągu ostatniego miesiąca. Prawie jedna dziesiąta respondentów potwierdza też, że korzysta z telefonu komórkowego podczas prowadzenia pojazdu. Jak wynika z danych Departamentu Transportu, ponad 500 wypadków drogowych w Wielkiej Brytanii każdego dnia kończy się obrażeniami lub śmiercią (dane roczne do końca marca 2015 r.). Ponieważ rozwój techniki wpływa w coraz większym stopniu na automatyzację prowadzenia pojazdów, to właśnie rozwój systemów bezpieczeństwa jest postrzegany jako główny sposób na wyeliminowanie błędnych działań kierowców.
W obliczu zaprezentowanych wyników badania przeprowadzonego przez Continental perspektywa korzystania z samochodów bezzałogowych jest niezwykle kusząca. W pierwszej dziesiątce korzyści wynikających z autonomicznej jazdy podanych przez respondentów znalazły się:
1. Bezpieczeństwo drogowe
2. Bardziej efektywny/krótszy czas podróży
3. Wymagana mniejsza koncentracja
4. Zmniejszone koszty ubezpieczenia (dzięki mniejszej liczbie wypadków)
5. Możliwość korzystania z telefonu komórkowego
6. Większa mobilność osób nieprowadzących pojazdów
7. Możliwość jedzenia w samochodzie
8. Możliwość czytania w samochodzie
9. Bardziej produktywne wykorzystanie czasu
10. Możliwość korzystania z tabletu/laptopa w czasie jazdy
–Należy jednak zwrócić uwagę, że rozwój technologii wpływających na poprawę bezpieczeństwa na drogach nie może zastąpić koncentracji i zdrowego rozsądku kierowcy podczas jazdy– dodaje Mark Griffiths.
Źródło: Continental