Wspólne badanie firmy Goodyear i London School of Economics and Political Science, przeprowadzone na grupie blisko 9000 kierowców z 15 europejskich krajów pokazało, że zachowania kierowców na drodze wywołują efekt domina. Jest to szczególnie niebezpieczne w przypadku agresywnych uczestników ruchu drogowego, których działanie może być powtarzane przez innych.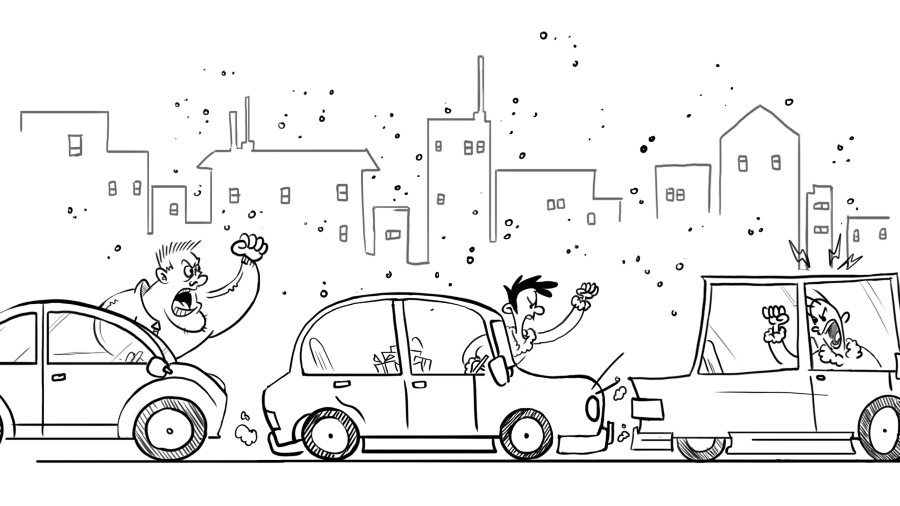 Aż 55% ankietowanych przyznało, że gdy zostaną sprowokowani lub poirytowani na drodze przez innego kierowcę, są bardziej skłonni odbić to sobie na następnym, napotkanym później użytkowniku drogi. Z kolei 87% ankietowanych zgodziło się ze stwierdzeniem, że życzliwa jazda innych osób może ich skłonić do równie uprzejmego traktowania kolejnych napotkanych uczestników ruchu drogowego. Wypływa stąd wniosek, że zarówno życzliwe, jak i agresywne zachowania mogą uruchamiać łańcuch zdarzeń, tworząc środowisko, które w zależności od sytuacji może być komfortowe i bezpieczne lub stresujące i groźne dla kierowców.
"Pomijając czynniki takie jak warunki pogodowe czy zmęczenie, istotnym bodźcem, na który reagujemy podczas podróży są otaczający nas kierowcy" - powiedział dr Chris Tennant z London School of Economics, który kierował badaniem. "Dzieląc przestrzeń drogową z innymi, kierujący często stosują zasadę wzajemności. Biorąc jednak pod uwagę, że wiele interakcji jest przelotnych, najczęściej wzajemność jest niebezpośrednia, czyli odpowiadamy innemu kierowcy, spotkanemu na późniejszym etapie podróży. W ten sposób na drodze powstaje efekt domina" – wyjaśnił dr C. Tennant.
Zachowanie innych kierowców może sprowokować nas do bardziej niebezpiecznej jazdy
Dotychczasowe badania w dziedzinie bezpieczeństwa drogowego wskazywały przede wszystkim na potrzebę identyfikowania określonych, problematycznych kierowców, wykazujących skłonność do niebezpiecznych zachowań. Natomiast najnowsze badanie Goodyear i LSE zwraca uwagę na konieczność zrozumienia, w jaki sposób zachowanie innych kierujących może skłaniać nas do bardziej niebezpiecznej jazdy, nawet jeżeli sami nie jesteśmy typem agresywnego kierowcy.
"Okazuje się, że normy zachowania na drodze są ważne dla kierowców, co potwierdzają analizy nagrań interakcji występujących podczas jazdy. Wynika z nich, że większość badanych docenia znaczenie gestów podziękowania – zaledwie 10% uznało je za nieistotne. Rozmówcy przyznają też, iż kiedy inny kierowca im nie podziękuje, sami są bardziej skłonni jechać ostrzej przy najbliższym spotkaniu. Badanie ujawniło również cały szereg zachowań: od zmiany pasa na zatłoczonych skrzyżowania, przez tzw. siedzenie na ogonie i brak sygnalizacji skrętu, po niezdyscyplinowanie w zajmowaniu pasów na drogach szybkiego ruchu i autostradach, które w dużym stopniu mogą frustrować innych uczestników ruchu drogowego. W wywiadach kierowcy przyznają, że sami dopuszczają się podobnych zachowań, przeważnie nieumyślnie, uruchamiając tym samym efekt domina, czyli negatywnych interakcji" – dodał dr C. Tennant.
"Nasze badanie bezpieczeństwa drogowego dowodzi, że w rzeczywistości wielu kierowców postrzega inne samochody na drodze jako anonimowe maszyny, nie zaś pojazdy, w których znajdują się ludzie. Dlatego też rzadko widzą potrzebę wykazywania się dobrymi manierami" - powiedział Olivier Rousseau, wiceprezes Goodyear ds. opon osobowych w Europie, na Bliskim Wschodzie i Afryce. "Za pomocą prezentowanych analiz chcemy uzmysłowić kierowcom, że ich zachowania mogą w bardzo istotny sposób oddziaływać na innych, zwłaszcza w nerwowych sytuacjach. Agresywna i bojowa jazda jednej osoby może zainicjować reakcję łańcuchową pomiędzy innymi kierującymi, a w konsekwencji doprowadzić nawet do wypadku, którego realny sprawca i inicjator będzie już daleko. To od nas zależy powstrzymanie efektu domina na drodze" – dodał O. Rousseau.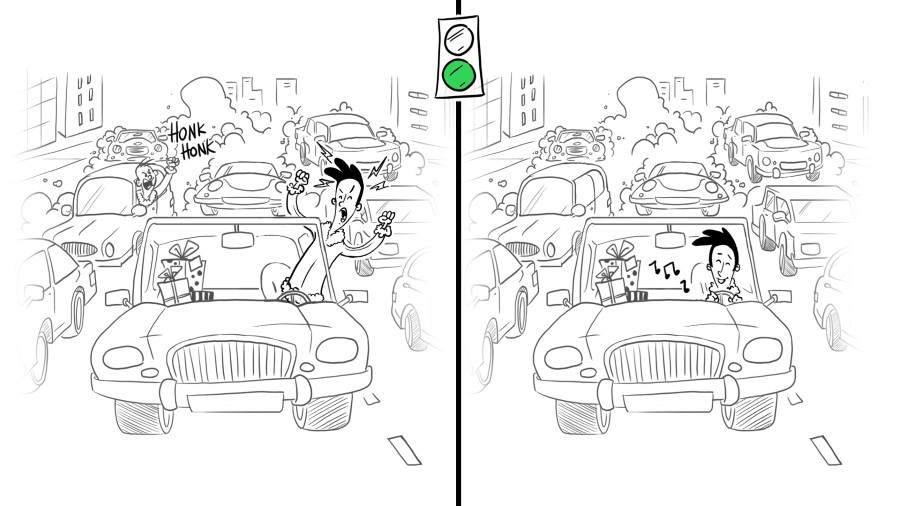 Wiele form nieżyczliwości
"Nieżyczliwość może przejawiać się na różne sposoby: od pouczania, przez konkurowanie, krzyki, gestykulację, aż po zastraszanie. Niezależnie jaka będzie jej forma, może przyczynić się to do eskalacji i nasilania mniej bezpiecznej kultury jazdy. Gama uprzejmych zachowań na drodze jest natomiast niewielka, ale za to mają one dużą siłę sprawczą. Należy do nich: przepuszczanie innych przy intensywnym ruchu, nawiązywanie kontaktu wzrokowego, dziękowanie w sposób widoczny, gdy ktoś nas przepuści oraz przepraszanie, gdy przeszkodzimy innym. Każdy z takich gestów promuje kulturę uprzejmej jazdy i pomaga budować zasadzę wzajemności, na której skorzystamy wszyscy" – podkreślił dr C. Tennant.
Celem badania Goodyeara i LSE była analiza interakcji kierowców i ich stosunku do innych uczestników ruchu drogowego, a także oddziaływania ich zachowań na ryzykowną jazdę. Projekt badawczy składał się z dwóch części: ankiety jakościowej z wykorzystaniem grup fokusowych i wywiadów z kierowcami w Wielkiej Brytanii i Włoszech, oraz z części ilościowej - ankiety internetowej, w której wzięło udział prawie 9000 kierowców z 15 krajów (Belgii, Czech, Niemiec, Francji, Włoch, Holandii, Polski, Rumunii, Rosji, Szwecji, Turcji, Słowenii, Hiszpanii, Wielkiej Brytanii i Austrii).
Streszczenie raportu z badania można znaleźć na stronie www.goodyear.eu, natomiast jego pełna treść jest dostępna na życzenie.
Źródło: Goodyear