Nowa opona Goodyeara zwyciężyła w najnowszym teście magazynu "AutoBild" i zdobyła pierwsze miejsce w niezależnym teście TÜV pod względem hamowania na mokrej nawierzchni, śniegu i lodzie.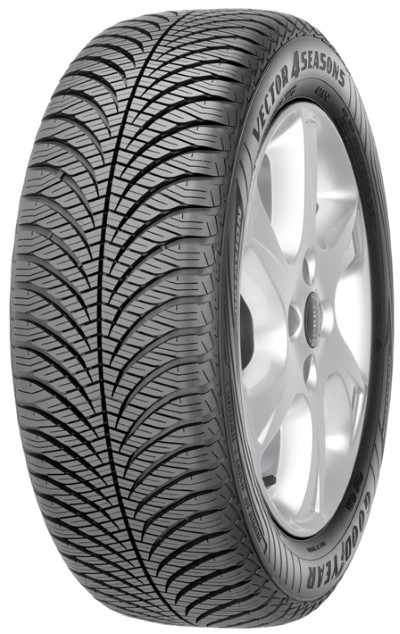 Vector 4Seasons Gen-2 to druga generacja uznanych przez klientów opon wielosezonowych Goodyear. Połączenie zimowych osiągów i doskonałych parametrów letnich pozwala kierowcom sprostać najtrudniejszym warunkom drogowym w Europie przez cały rok. Opona zaraz po debiucie na rynku zaskarbiła sobie uznanie ekspertów. W najnowszym rankingu niemieckiego czasopisma "AutoBild" zdobyła pierwsze miejsce. Została też liderem w teście hamowania na mokrej nawierzchni, śniegu i lodzie, przeprowadzonym na zlecenie Goodyear przez niezależną organizację TÜV.
"AutoBild" wybrał do testów dziesięć różnych opon, poddając ocenie szeroki zakres parametrów, w tym trakcję, prowadzenie i hamowanie na zaśnieżonych, mokrych i suchych drogach. Wielosezonowa opona Goodyear - w porównaniu z najnowszymi produktami konkurentów - okazała się liderem we wszystkich kategoriach. Opona zajęła również pierwsze miejsce w zleconym przez Goodyeara niezależnym teście TÜV, w którym uwagę zwracano zwłaszcza na hamowanie na mokrej nawierzchni, śniegu i lodzie.
W teście "Autobild" opona Vector 4Seasons Gen-2 (rozmiar 195/65R15 91H) wykazała się 'wzorową' wszechstronnością, wyróżniała się najlepszym prowadzeniem na mokrej drodze, najwyższą odpornością na aquaplaning oraz najkrótszą drogą hamowania na mokrej nawierzchni. Dzięki niskim oporom toczenia imponowała też doskonałą efektywnością paliwową, jak również najdłuższą żywotnością, pozostawiając konkurencję w tyle.
Osiągi nowej opony wielosezonowej potwierdziły też wyniki zleconego przez Goodyeara niezależnego testu organizacji TÜV. Pokazały one, że opona uzyskuje zdecydowaną przewagę nad konkurencją w zakresie hamowania na mokrej nawierzchni, śniegu i lodzie, co pozwoliło jej objąć pozycję lidera w teście. Vector 4Seasons zapewnia kierowcy bezpieczeństwo w trudnych warunkach drogowych. Na śniegu ogumienie wyróżnia się krótszą o 8% drogą hamowania w porównaniu z trzema wiodącymi konkurentami. W tych samych testach, opony Goodyear wykazały się także krótszą o 6% drogą hamowania na mokrej drodze i o 9% na lodzie. Te rezultaty również były lepsze od osiąganych przez produkty konkurencji.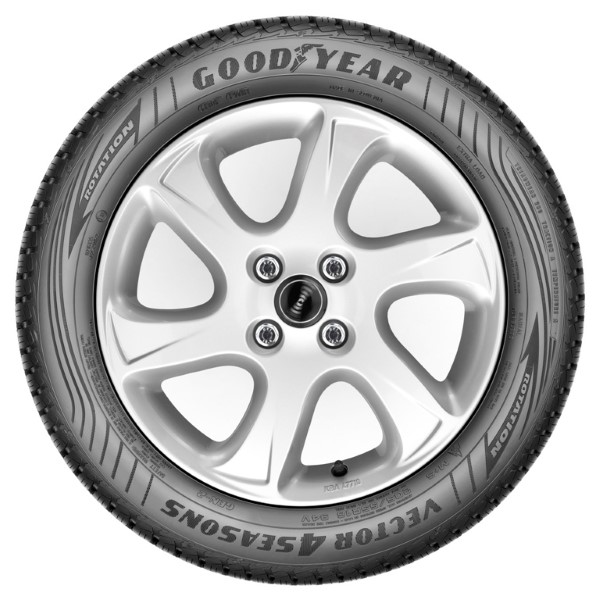 Nowe opony Vector 4Seasons opracowano, by sprostać wymaganiom zimowym, zwłaszcza w regionach, w których zimy są łagodniejsze. Pomimo że na tych terenach temperatura zimą rzadziej spada poniżej zera, jednak kierowcy są narażeni na lekkie opady śniegu i oblodzenia. W oparciu o te kryteria ulepszono układ mniejszych, połączonych bloków bieżnika. W porównaniu z pierwszą generacją udoskonalono również ogólne zachowanie opony na zaśnieżonych drogach. Inżynierowie Goodyeara zadbali także o większą pewność prowadzenia na oblodzonych nawierzchniach, wprowadzając do bieżnika nowego produktu szerszy rowek.
W związku z tym, że klimat zmienia się i nie każda zima oznacza duże opady śniegu, Goodyear wykorzystał do produkcji nowej opony zaawansowany środek zmiękczający SmartTred – najnowszą technologię w dziedzinie polimerów – oraz zwiększył ilość krzemionki, by zapewnić lepsze zachowanie auta na mokrych, pokrytych błotem pośniegowym i oblodzonych drogach. Nowa generacja opon Vector 4Seasons daje również większą stabilność i pewność prowadzenia na suchych nawierzchniach. Wszystko za sprawą bieżnika usztywnionego trójwymiarowymi lamelami. Jego solidna rzeźba ze stopniowaną sztywnością zapewnia znakomite parametry jazdy przez cały okres żywotności opony.
Nowe opony Vector 4Seasons to rezultat ponad 30 lat innowacji w dziedzinie opon wielosezonowych, oraz wiedzy pozyskanej z użytkowania tego typu ogumienia – montowanego jako pierwsze wyposażenie w setkach modeli pojazdów, w tym dla wiodących marek takich jak: Audi, Volkswagen, Fiat, Jeep, Opel, Ford i Renault.
Nagrodzone opony Goodyear Vector 4Seasons drugiej generacji są dostępne w sprzedaży w serwisach Point S UNIGUM. Do stycznia przyszłego roku linię opon, obejmującą obecnie 43 rozmiarach, wzbogaci się jeszcze o trzy modele Run On Flat. Nowa generacja z czasem zastąpi poprzedni model dostępny na rynku.
Źródło: Goodyear