Jeszcze kilkanaście lat temu widok samochodu odpalanego zimą "na pych" był dość częsty na polskich ulicach. Dziś należy raczej do rzadkości. Wynika to nie tylko z technicznego zaawansowania współczesnych pojazdów, ale też z coraz wyższej świadomości kierowców.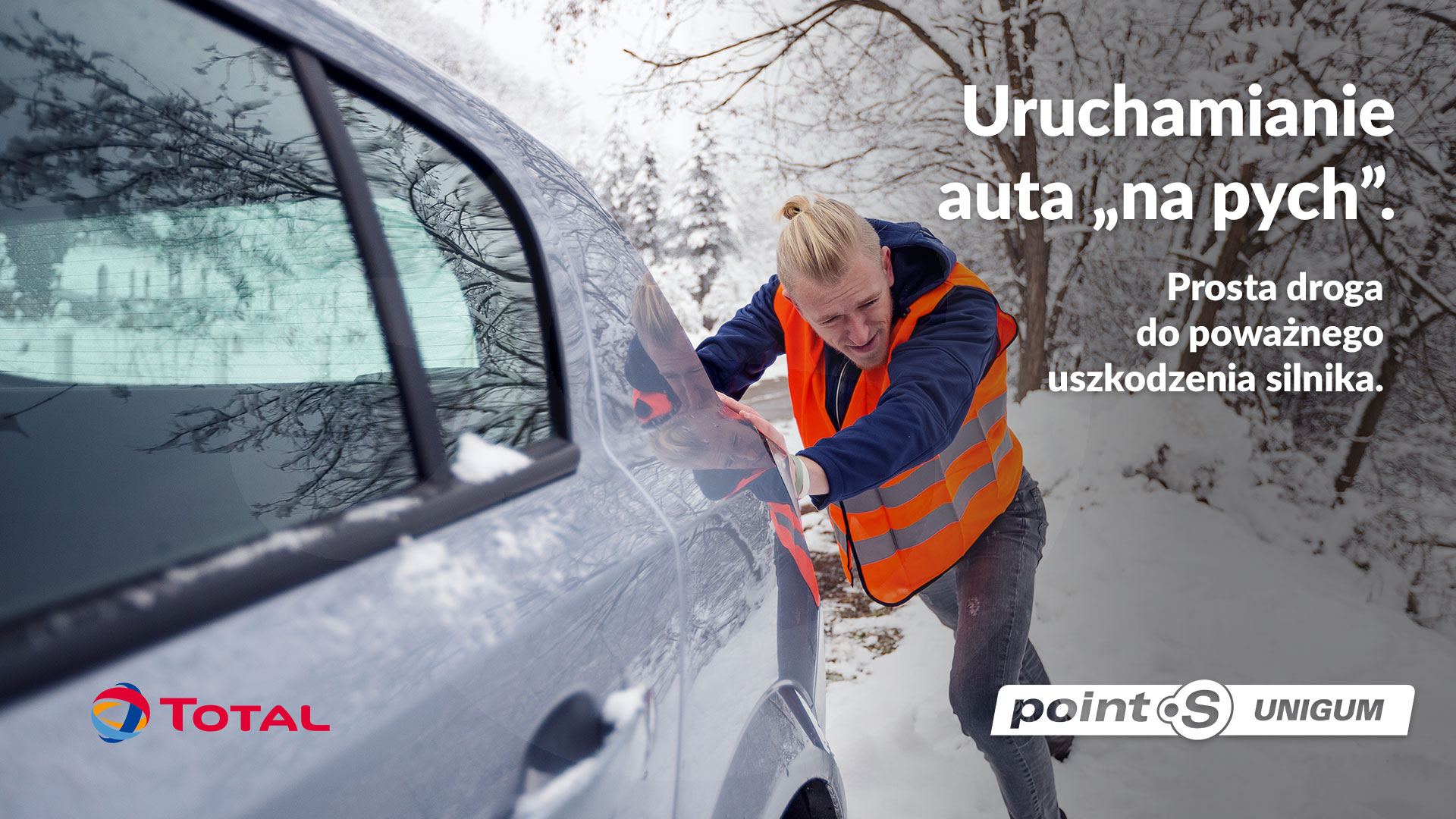 Odpalanie samochodu "na pych" lub "na hol" nie jest najlepszym pomysłem. Pomijając tak oczywiste aspekty, jak to, że autem pozbawionym prądu znacznie trudniej sterować, ponieważ nie działa wspomaganie kierownicy czy szereg innych uruchamianych elektrycznie układów, postępowanie takie może doprowadzić do uszkodzenia silnika. W jaki sposób? Nowoczesne jednostki napędowe mają rozrząd napędzany paskiem zębatym. Pasek odpowiada za to, aby zawory unosiły się i chowały w odpowiednim momencie. Jeśli moment uchylania zaworów przesunie się względem ruchu tłoków, silnik nie będzie pracował normalnie, a zawory mogą zderzyć się z tłokami. Wówczas zawory skrzywią się i konieczna będzie poważna naprawa głowicy, która kosztować może nawet kilkanaście tysięcy złotych. Może też dojść do przesunięcia albo zerwania paska, w momencie gdy pchany samochód gwałtownie odpali.
Inną kwestią związaną ze szkodliwością odpalania "na pych" nowoczesnych samochodów jest prawdopodobieństwo uszkodzenia katalizatora. Część paliwa może do niego trafić, zamiast spalić się w cylindrach. Dopiero tam pod wpływem wysokiej temperatury będzie się dopalać, niszcząc katalizator. W ekstremalnych przypadkach, gdy nagromadzonego w katalizatorze paliwa będzie dużo, dojść może nawet do jego wybuchu. Uruchamiając samochód "na pych", ryzykujemy też uszkodzenie turbosprężarki (o ile auto jest w nią wyposażone). Wynika to z prostej zależności: gdy silnik nie pracuje, turbosprężarka nie jest smarowana. Należy również pamiętać, że o ile taki sposób uruchomienia samochodu z manualną skrzynią biegów jest możliwy – choć wysoce ryzykowny z uwagi na możliwości powyższych awarii – o tyle w przypadku aut z automatyczną przekładnią jest to absolutnie niemożliwe.
Niezależnie jednak od typu skrzyni biegów, w jaki wyposażony jest pojazd, specjaliści potwierdzają, że w przypadku problemów z uruchomieniem silnika najlepszym rozwiązaniem jest transport auta na lawecie lub odpalenie silnika za pomocą kabli rozruchowych, wykorzystując do tego akumulator z innego sprawnego auta (o ile jesteśmy pewni, że silnik nie chce zaskoczyć właśnie z powodu rozładowanego akumulatora). Obowiązują tu jednak pewne żelazne reguły. Pierwsza z nich to przypilnowanie, by kable zostały właściwie połączone: plus z plusem i minus z minusem. Druga natomiast mówi o tym, że do uruchomienia diesla potrzebny jest prąd z innego diesla, a do uruchomienia silnika benzynowego z innego silnika benzynowego. Wynika to stąd, że prąd potrzebny do startu jednostki wysokoprężnej jest o wiele wyższy niż w przypadku silnika benzynowego.
Adam Klimek, Ekspert Team Total
Źródło: Total