Wymiana oleju silnikowego to temat, który wciąż budzi wiele emocji. Z jednej strony zaawansowanie technologiczne współczesnych środków smarnych obiektywnie przedłuża ich zdolność do zachowania swoich właściwości. Z drugiej strony coraz bardziej wysilone silniki mocno obciążają olej skracając jego żywotność. Gdzie leży ta granica i jak decyzja o skróceniu lub wydłużeniu interwału wymiany oleju wpływa na nasz silnik?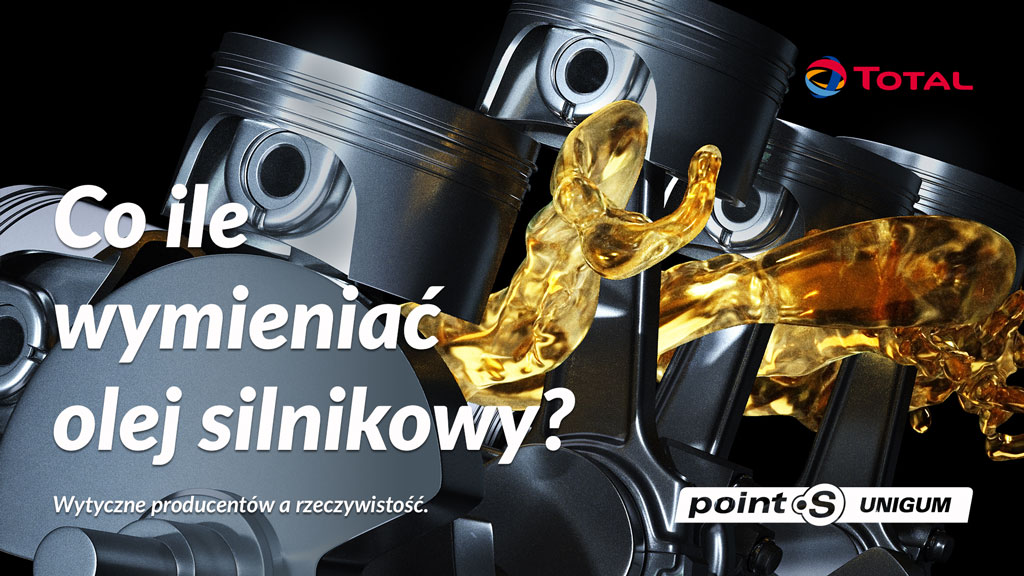 Olej składa się z bazy olejowej, która wyznacza jego rodzaj oraz dodatków uszlachetniających, pozwalających kształtować określone parametry. Dzielimy go na trzy rodzaje: syntetyczny, półsyntetyczny oraz mineralny, z czego najbardziej pożądany jest tzw. "syntetyk". To właściwie jedyny słuszny olej, jakiego możemy używać we współczesnej motoryzacji i który jest w stanie spełnić wymagania tzw. "Long Life". Producenci samochodów zmienili swoje podejście do tematu oleju silnikowego i dzisiaj nikogo już nie dziwią zalecenia, by przyjeżdżać do serwisu co dwa lata lub 30 000 km. Ma to swoje dobre i złe strony, ale czy olej ma taką samą jakość przez cały okres eksploatacji od wymiany do wymiany?
"W dzisiejszych czasach silniki pracują w wysokich temperaturach i przy dużych ciśnieniach roboczych. Sprzyja to utlenianiu oleju i wpływa negatywnie na strukturę molekularną, co prowadzi do zwiększenia oporów, zanieczyszczeń i osadów w silniku. Olej traci swoje właściwości także w wyniku kontaktu z innymi metalami wewnątrz silnika oraz przenikania do niego pewnych ilości paliwa. Te wymagania postawiły przed producentami środków smarnych szereg wyzwań. W odpowiedzi na nie firma Total opracowała oleje z technologią ART (Age Resistance Technology). To zaawansowana, bardzo nowoczesna formuła zapewniająca doskonałe właściwości przeciwutleniające i przeciwzużyciowe oleju silnikowego. Chroni ona również przed tworzeniem się szlamu, osadów i zużyciem silnika, co ma kluczowe znaczenie dla wydłużenia jego bezawaryjnej pracy – tłumaczy Andrzej Husiatyński, kierownik działu technicznego TOTAL Polska.
Oprócz zaleceń producentów interwał wymiany oleju zależy od dwóch aspektów – stylu jazdy kierowcy oraz warunków eksploatacji. Jeśli ktoś jeździ tylko po mieście, pokonując niewielkie odległości, podczas których silnik nie ma możliwości odpowiedniego rozgrzania się, to są to trudne warunki pracy dla każdego oleju. W takim przypadku bezwzględnie powinniśmy wymienić go wcześniej. Analogicznie, jeśli ktoś jeździ przeważnie po trasach, bez nadmiernego obciążania samochodu i w sytuacji, gdzie silnik ma szansę na rozgrzanie - możemy tę decyzję nieco odłożyć w czasie. Dużo zależy także od stylu jazdy kierowcy. W czasie sportowej jazdy olej szybciej ulega zanieczyszczeniu produktami spalania i utlenieniu co spowoduje szybszą utratę pożądanych parametrów jakościowych i lepkościowych. Wtedy nie zapewni on odpowiedniego smarowania, chłodzenia i czystości jednostki, co może przyczynić się do przedwczesnej awarii silnika.
O ile w większości przypadków instrukcje samochodu wyznaczają rozsądne granice wymiany oleju silnikowego są sytuacje, gdy warto patrzeć na nie z dystansem. Eksperci podkreślają, że należy brać pod uwagę więcej czynników niż tylko to, co napisze producent i fakt, że niebagatelny wpływ na starzenie oleju ma zarówno nasz styl jazdy, jak też warunki eksploatacji. Oprócz terminowej wymiany oleju, bardzo ważna jest jego jakość. Ma ona bezpośredni wpływ na żywotność każdej jednostki napędowej, ale również pozostałych elementów np. turbosprężarki czy łańcuchowego napędu rozrządu.
"Kryterium wymiany oleju stanowi określona liczba kilometrów albo czas, w zależności, co nastąpi wcześniej. Standardem w dzisiejszych czasach jest 30 000 km lub 2 lata. Należy jednak zwróci uwagę, że w większości instrukcji obsługi pojazdów zaleca się skracanie przebiegów pomiędzy wymianami nawet o połowę, w zależności od warunków eksploatacyjnych: częste rozruchy, jazda sportowa, jazda regularnie poniżej 10km, jazda po górach, ciąganie przyczepy, bardzo zimny czy gorący klimat to czynniki, jakie wpływają na szybsze zanieczyszczenie oleju silnikowego i pogorszenie jego właściwości. Jednakże najważniejszą kwestią jest aby olej spełniał odpowiednią normę czy homologację wymaganą przez producenta pojazdu." – podsumowuje Andrzej Husiatyński.