Opony Hankook w różnych rozmiarach pasują do nowego Audi Q8. Linia Ventus i Winter i*cept w wersjach do samochodów SUV, jak również Dynapro są na oryginalnym wyposażeniu flagowego samochodu typu SUV wiodącego producenta z siedzibą w Ingolstadt. Podczas gdy modele opon Ventus S1 evo 3 SUV oraz Winter i*cept evo 2 SUV są przeznaczone przede wszystkim na drogi europejskie, model Dynapro HP 2 Plus ma trafić na rynek północnoamerykański.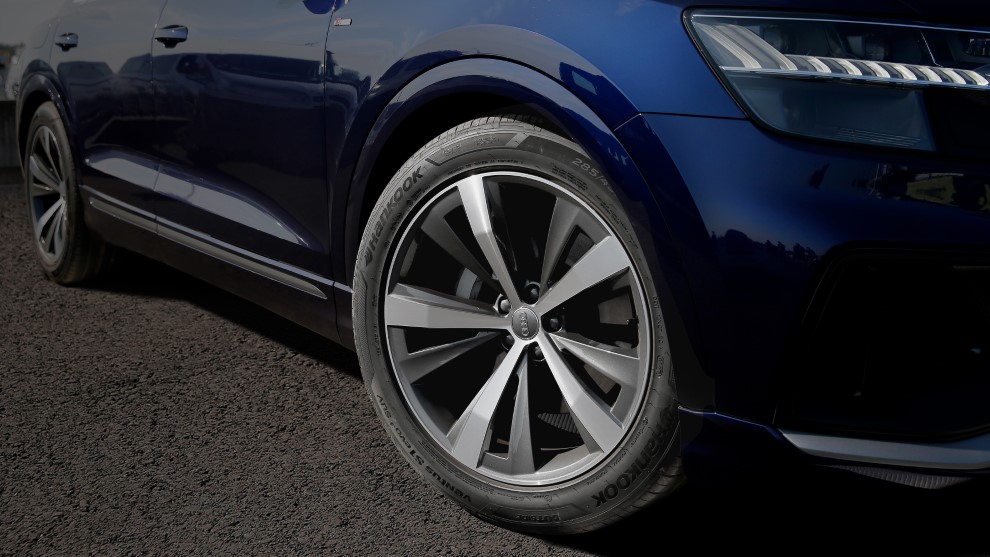 Rodzinę modeli Q producenta z Ingolstadt charakteryzują postępowy design i najnowocześniejsza technologia. Audi Q8 wyposażono w grill chłodnicy w jednej ramie w kształcie ośmiokąta bazujący na udanej konstrukcji Audi Ur-Quattro. Nowy SUV Coupé oferuje mnóstwo miejsca, jest luksusowy i wysoce skomputeryzowany. Zaawansowany system nawigacji, sterowanie głosem, zwrotne podwozie w połączeniu z oponami firmy Hankook o wymiarach od 20 do 22 cali oraz potężne silniki czynią z Q8 dynamiczny pojazd.
Czterodrzwiowy SUV Coupé wykorzystuje trzy linie opon: bardzo wydajne letnie i zimowe opony Ventus S1 evo 3 SUV oraz Winter i*cept evo 2 SUV odpowiednio w rozmiarach 285/45 R21 113 Y XL i V XL oraz Dynapro HP 2 Plus w rozmiarach 275/50 R20 113H X, 285/45 R21 113H XL and 285/40 R22 110H XL. Inne wymiary zostaną podane w późniejszym czasie.
"Jesteśmy bardzo zadowoleni z tego, że nasze produkty zostały po raz kolejny wybrane do nowego modelu Audi", wyjaśnia Han-Jun Kim, prezes Hankook Tire Europe. "Nawet będąc wieloletnim dostawcą Audi, to zaszczyt otrzymać miano dostawcy wyposażenia oryginalnego dla topowego modelu serii Q. Ponadto, jesteśmy dumni, że dostarczymy pełną gamę opon dla Q8 na różne rynki."
Opony firmy Hankook szczególnie sprawdzają się podczas dynamicznej jazdy: "Głównym wymogiem przy opracowywaniu opon była ich konstrukcja. Ze względu na ogólnie wyższe obciążenia w przypadku dużych SUV-ów i wynikający z tego wskaźnik nośności, który należy spełnić w połączeniu z możliwymi wysokimi prędkościami, trwałość konstrukcji opony była bardzo ważna. Ponadto zwróciliśmy szczególną uwagę na wymagane atrybuty pojazdu zarówno na mokrej, jak i suchej nawierzchni", wyjaśnia Dipl.-Ing. Klaus Krause, Kierownik Europejskiego Centrum Badań i Rozwoju firmy Hankook.
Oponę Ventus S1 evo 3 skonstruowano z zastosowaniem tzw. "bead packing", specjalnego nylonowego materiału w obszarze ściany bocznej, który zwiększa jej wytrzymałość. Dwuwarstwowy szkielet i zastosowanie aramidowego materiału kompozytowego redukuje niepożądany wzrost podwijania się opony przy wysokich oraz bardzo wysokich prędkościach (ponad 300 km/godz.) nawet o 60 procent w porównaniu z wcześniej stosowanymi materiałami. Dzięki temu opona ma znacznie lepszą stabilność jazdy i dłuższą żywotność poprzez mniejsze wytwarzanie ciepła, a tym samym pozostaje na niezmiennie wysokim poziomie przyczepności nawet w bardzo szerokim zakresie temperatur. Sportowe, dynamiczne osiągi zarówno na suchej, jak i mokrej nawierzchni gwarantuje specjalna mieszanka bieżnika wykorzystująca wysokowydajne żywice naturalne.