Jazda po górskich szczytach to wyzwanie, z którym przynajmniej raz w życiu zmierzy się większość kierowców. Oblodzone drogi, wąskie zakręty i śnieg spadający z drzew na drogę – to typowe sytuacje, z którymi spotkamy się w górach zimą. Warto zatem wiedzieć, jak w takich warunkach jeździć bezpiecznie i nie narażać siebie oraz pasażerów na niepotrzebny stres.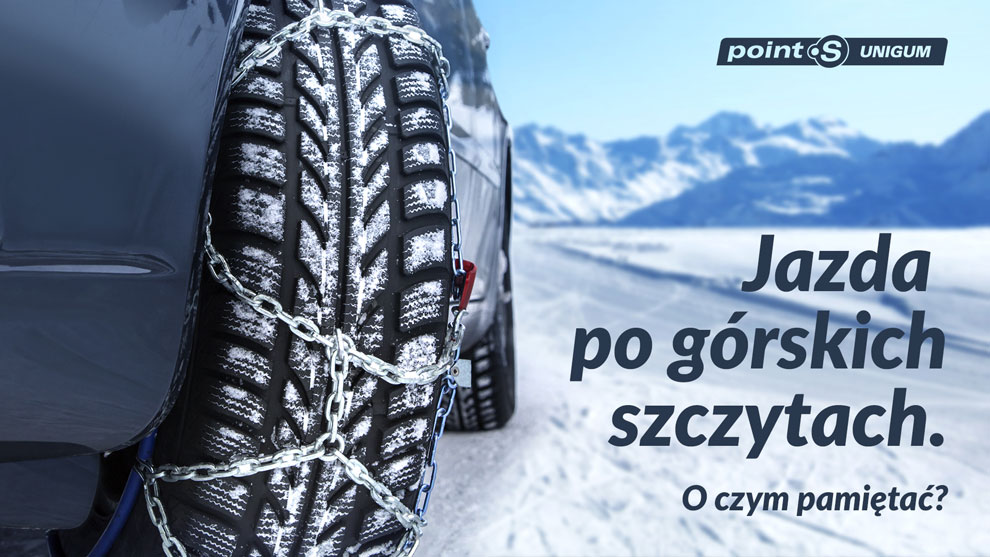 Po pierwsze – przygotujmy siebie i samochód. W górskiej aurze nietrudno o wypadek na drodze i może się okazać, że podróż znacznie się wydłuży. W takiej sytuacji możemy być zmuszeni do awaryjnego zatrzymania się na poboczu. Warto zatem spakować ciepłe ubrania i zapas gorących napojów w termosach. Podczas jazdy w aucie może być ciepło za sprawą ogrzewania, ale są sytuacje, w których rozsądniej byłoby wyłączyć silnik. Musimy starać się przewidywać i zakładać wiele nie zawsze korzystnych scenariuszy.
Przygotowanie samochodu obejmuje z kolei kompleksowy przegląd – hamulców, opon, zawieszenia, oświetlenia i samego silnika. Najlepszym wyborem będzie skorzystanie z usług stacji kontroli pojazdów lub warsztatu, który dysponuje podnośnikiem. Bardzo ważna sprawa – nie róbcie tego na ostatnią chwilę. Doświadczenie pokazuje, że ludzie nierzadko umawiają się na weryfikację stanu technicznego na dzień przed wyjazdem. Podczas oględzin może się okazać, że do wymiany jest wiele elementów, a serwis nie ma czasu lub dostępnych części. Nie stawiajcie warsztatu, a przede wszystkim siebie w sytuacji, w której Wasza podróż niesie za sobą jakieś ryzyko, bo auto nie jest do końca sprawne technicznie. Bezpiecznie jest umawiać się minimum na tydzień przed wyjazdem, by dać sobie czas na ewentualne naprawy.
Sama jazda po górskich szczytach obejmuje kilka czynności, o których należy pamiętać, by pokonywać trasę jak najbardziej bezpiecznie i wydajnie. Podjeżdżając pod wzniesienie, musimy pamiętać o odpowiednim biegu i być gotowi na ewentualną redukcję. Nie możemy dopuścić do sytuacji, w której samochód stanie na stromym podjeździe. Może się wtedy okazać, że ruszenie pod górę będzie niemożliwe z uwagi na poślizg kół. W najgorszym przypadku samochód stoczy się i utracimy nad nim kontrolę! Tego, jak wielkie sprawia to zagrożenie, wyjaśniać chyba nie trzeba.
Góry mają to do siebie, że na ich terenie znajduje się mnóstwo dróg w kształcie serpentyn. Mamy szczęście, gdy trasa jest już "wyrobiona" przez inne samochody. Gorzej, gdy poruszamy się w nocy lub po mało uczęszczanych drogach. Musimy zachować prędkość adekwatną do warunków pogodowych i sytuacji na drodze – zbyt wysoka może wyrzucić nas z zakrętu przez spowodowanie podsterowności lub nadsterowności. Nie możemy także przesadzać z obrotami silnika – za duże nie pozwolą przyspieszyć i obciążą nadmiernie silnik, za małe go zdławią. Zwracajmy także uwagę na wskazówki temperatury płynu chłodzącego oraz oleju (jeśli występuje). Wszelkie anomalie wymagają natychmiastowego zatrzymania się w bezpiecznym miejscu i odczekania bez wyłączania silnika, aż temperatura się unormuje.
Szczególną uwagę należy poświęcić hamowaniu – podczas długich zjazdów powinniśmy bezwzględnie hamować silnikiem! Polega ono na odpowiedniej redukcji biegów w zależności od sytuacji. Im rzadziej używamy hamulca nożnego, tym lepiej, gdyż ograniczamy przedwczesne zużycie klocków oraz zmniejszamy ryzyko jego przegrzania.
Kolejny aspekt poruszania się po górach dotyczy stosowania łańcuchów na koło. Musimy pamiętać, że łańcuchy nie pomogą na lodzie. Służą one przede wszystkim zwiększeniu przyczepności w przypadku jazdy po pokrywie śnieżnej. W niektórych krajach są wymagane prawem, a za każdym razem określają to znaki drogowe. Istnieje kilka rodzajów łańcuchów. Najpopularniejsze są samonapinające, które bez problemu założy każdy kierowca. Nie można jednak ufać, że załatwią za nas wszystko – opony zimowe wysokiej jakości i umiejętna jazda to podstawy bezpiecznej jazdy po górach.
Co jednak, gdy wpadniemy już w poślizg i samochód odmówi współpracy? Są takie sytuacje, gdy mimo zachowania wszystkich zasad bezpieczeństwa wjeżdżamy w teren, w którym przyczepność wynosi niemal zero. W przypadku uślizgu tylnej osi zakładamy kontrę na kierownicę (byle nie za dużą, bo nas obróci) i staramy się uspokoić auto. W przypadku poślizgu podsterownego (przodu) mamy nieco mniejsze możliwości. Możemy próbować wyprostować na moment kierownicę, by samochód jechał na wprost i odzyskał przyczepność. Wszystko zależy jednak od warunków, bo przy pewnej prędkości nie będziemy mogli zrobić już nic i pozostanie mocne wciśnięcie hamulca, by jak najszybciej wytracić prędkość. Poślizgu podsterownego możemy spodziewać się częściej. Samochody są dziś projektowane tak, by były bardziej podsterowne, gdyż taki poślizg jest bezpieczniejszy dla podróżujących.
Źródło: Patryk Mikiciuk, EKSPERT TEAM TOTAL