Na współczesny, bardzo szybki, a jednocześnie wygodny oraz bezpieczny samochód składają się tysiące rozwiązań technologicznych wdrażanych od ponad 100 lat. W XXI wieku w świecie motoryzacji nastąpiła rewolucja. Producenci na masową skalę zaczęli instalować w autach inteligentne systemy bezpieczeństwa, które nie tylko umożliwiają lokalizację, komunikację z Internetem czy wymianę danych między pojazdami, ale także ratują życie.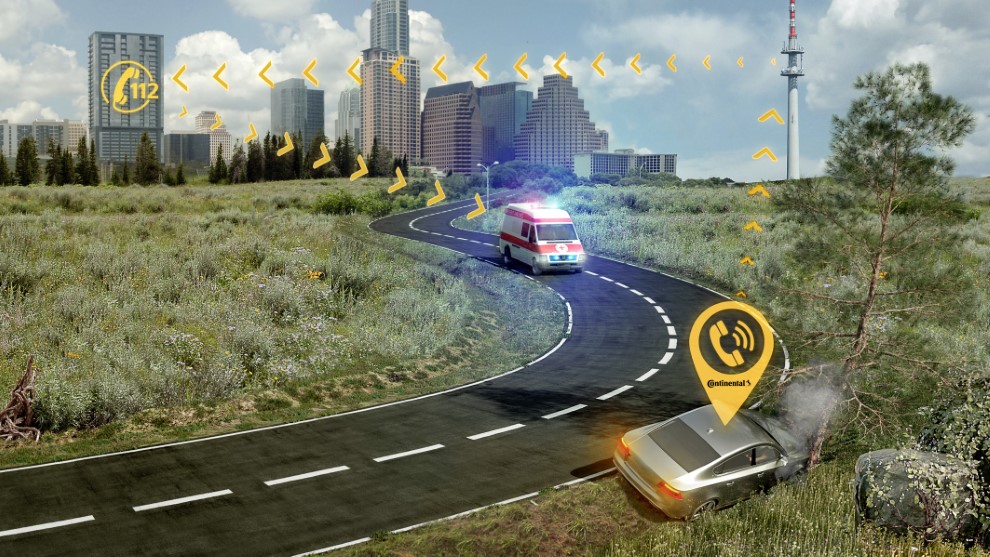 Telefon w służbie ratownictwa
Jednym z największych wynalazków połowy XX wieku był telefon samochodowy. Pierwszy zestaw zajmował połowę bagażnika limuzyny, a jego cena wynosiła nawet 50% wartości luksusowego pojazdu. Dzięki temu wynalazkowi poszkodowany lub osoby biorące udział w kolizji czy wypadku mogły szybko wezwać pomoc. Istotną wadą tego rozwiązania było to, że to człowiek musiał poinformować służby ratunkowe o zdarzeniu – podać lokalizację, ocenić skalę obrażeń.
Cyfrowa rewolucja
Pod koniec lat 90. nastąpił dynamiczny rozwój technologii bezprzewodowych i systemów geolokalizacji. Obecnie karty SIM, Bluetooth, Wi-Fi czy GPS należą do standardowego wyposażenia samochodów. W kwietniu 2018 r. europejskim standardem stał się także e-Call, czyli ogólnoeuropejski system szybkiego powiadamiania o wypadkach drogowych.
Auto, które samo wezwie pomoc
e-Call opiera się na śledzeniu danych GPS i w razie wypadku, za pomocą wbudowanej w samochód karty SIM, powiadamia o nim centrum ratunkowe. System przesyła do służb ratunkowych informacje o lokalizacji pojazdu, czasie zdarzenia, kierunku jazdy, rodzaju paliwa w aucie, maksymalnej liczbie przewożonych pasażerów, numerze identyfikacji auta oraz czy zgłoszenie było wywołane ręcznie czy automatycznie - e-Call może aktywować się sam w momencie eksplozji poduszki powietrznej lub poprzez naciśnięcie odpowiedniego przycisku.
Samochody z e-Call
Na drogach pojawia się coraz więcej samochodów z dostępem do sieci. Analitycy szacują, że dzięki wprowadzeniu obowiązku montowania systemu e-Call, w ciągu najbliższych 4 lat na świecie przybędzie nawet ponad 125 milionów takich aut [1].
Ważną kwestią jest także to w jaki sposób pojazdy połączą się z siecią. Do tej pory producenci samochodów wykorzystywali przede wszystkim moduły 2G/3G oraz 4G LTE. Niebawem i te doczekają się następcy. Continental, producent opon i wiodący dostawca rozwiązań dla branży motoryzacyjnej, prowadzi prace w zakresie zastosowania w autach nowych standardów sieci komórkowych LTE-Advanced i 5G. Firma jest także gotowa do produkcji systemów telematycznych opartych na e-Call, które mogą zostać dostosowane do wymogów poszczególnych producentów pojazdów.
Nowoczesne technologie w samochodach pozwalają zwiększyć nasze bezpieczeństwo. Nawet jeśli dojdzie do wypadku, istnieje szansa, że służby ratunkowe zareagują szybciej. Według Komisji Europejskiej, system e-Call skróci czas reakcji służb ratunkowych o 40% w miastach i do 50% na obszarach wiejskich, a także zmniejszy liczbę ofiar śmiertelnych nawet o 10% rocznie. Jest to kolejny krok w kierunku realizacji idei bezwypadkowej jazdy - Wizji Zero wspieranej przez innowacje Continental, która zakłada zredukowanie do zera wypadków, rannych i ofiar śmiertelnych.
[1] Źródło: https://www.counterpointresearch.com/125-million-connected-cars-shipments-2022-5g-cars-2020/
Źródło: Continental