Bridgestone zaprezentował nową oponę klasy premium. Turanza T005 została zaprojektowana i wyprodukowana w Europie z myślą o europejskich drogach. Jej główne parametry to doskonała przyczepność, niższe opory toczenia, a także długie przebiegi. Nowy bieżnik zapewnia kierowcy poczucie pełnej kontroli w trudnych sytuacjach drogowych, szczególnie w deszczowe dni.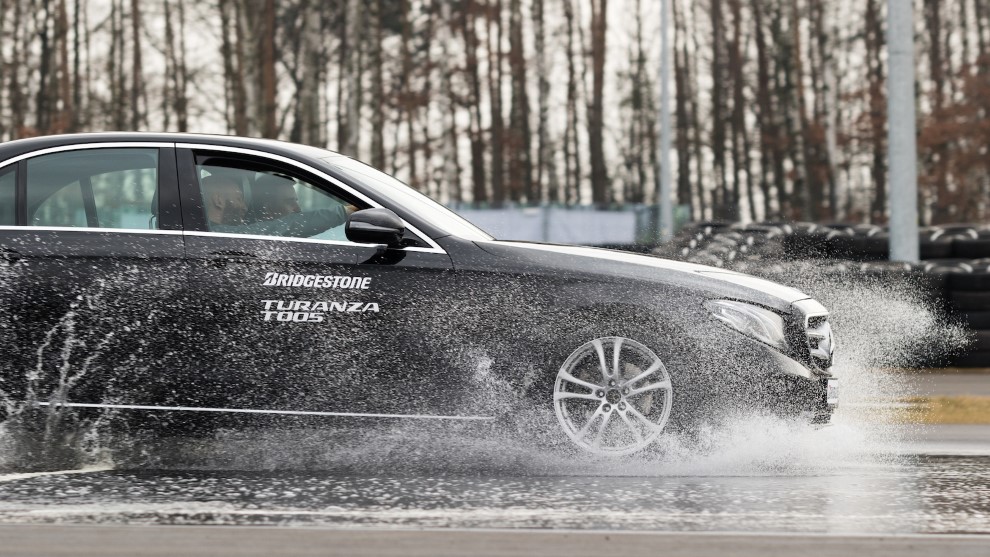 Turanza T005 jest dostępna w sprzedaży od stycznia 2018 r. Producent przygotował ponad 140 rozmiarów opony, by skutecznie zastąpić obecnie produkowany model T001 EVO. Dzięki bogatemu asortymentowi do 2019 roku model Turanza T005 pozwoli całkowicie zaspokoić popyt na wszelkiego rodzaju opony w rozmiarach od 14'' do 21''. Jednocześnie Bridgestone planuje ujednolicić asortyment dostępnych opon komfortowych, ograniczając ofertę w tym segmencie do produktów z linii DriveGuard oraz właśnie Turanza T005. Wiodące marki samochodowe już wybrały opony z tej linii na pierwszy montaż.
Nowa, wysokiej klasy opona komfortowa Turanza T005 będzie flagowym produktem w portfolio marki Bridgestone i zaspokoi znaczną część popytu w swojej grupie. W trakcie prac nad produktem przeprowadziliśmy dokładną analizę potrzeb konsumenckich i stworzyliśmy oponę, która na nie odpowiada. Opona Bridgestone T005 ma dostarczyć kierowcy poczucie kontroli nad pojazdem, także w trudnych warunkach, na mokrej nawierzchni– podsumowuje Jakob Rønsholt, Managing Director, Products and Solutions Strategy w Bridgestone EMEA.
Panuj nad swoją trasą nawet w deszczowe dni
Bridgestone klienta końcowego dla swoich produktów określa mianem przedstawiciela grupy "BOSS" ("szef") i to właśnie idea, która stawia klienta w centrum zainteresowania firmy, była inspiracją przy projektowaniu opony Turanza T005. Firma przeprowadziła konsultacje z tysiącami użytkowników opon klasy premium na terenie całej Europy. Dzięki temu poznała ich potrzeby i oczekiwania w zakresie codziennego użytkowania pojazdów.
Wnioski były jasne. Nabywcy wysokiej klasy opon oczekują, żeby dawały im one poczucie bezpieczeństwa, a jednocześnie pozwalały cieszyć się jazdą. Potrzebują opony, która da im poczucie kontroli w trudnych, codziennych sytuacjach drogowych, szczególnie w deszczowe dni. Ważnymi czynnikami oceny opon są także dobre wyniki spalania oraz trwałość bieżnika.
Turanza T005 jest odpowiedzią na te oczekiwania. To opona, która pozwala zachować pełną kontrolę w niekorzystnych warunkach drogowych, szczególnie na mokrej nawierzchni – możliwość bezpiecznego wchodzenia w zakręt na autostradzie czy gwałtownego hamowania na drogach miejskich.
Doskonałe osiągi na mokrej nawierzchni potwierdzone przez TÜV SÜD
Opona Turanza T005 zapewnia kierowcom najlepszą w swojej klasie przyczepność na mokrych nawierzchniach (Etykieta UE, klasa A) oraz doskonałe wyniki dotyczące oporów toczenia (Etykieta UE, klasa B). Warto również zauważyć, że niektóre rozmiary tego modelu zakwalifikowały się do klasy A pod względem obu tych parametrów.
Najlepsze w swojej klasie trzymanie boczne oraz wyniki hamowania na mokrej nawierzchni zostały przetestowane i potwierdzone przez TÜV SÜD, jedną z najważniejszych, niezależnych instytucji testujących samochody w Europie [1].
Takie osiągi stały się możliwe dzięki połączeniu konstrukcji bieżnika o specjalnie zaprojektowanym przez nich kształcie, ale także starannej selekcji wysokiej jakości materiałów. Zwarty układ lameli w blokach oraz rowków w środkowej części bieżnika pozwala na sprawne odprowadzanie wody. Opona wykorzystuje technologię mieszania komponentów gumy, która łączy opatentowany przez Bridgestone polimer (NanoPro-Tech™) z materiałem o wysokiej zawartości krzemionki. Ma to ogromny wpływ na trwałość i większą przyczepność opony, a to z kolei pomaga osiągać lepsze wyniki spalania.
Testy wewnętrzne Bridgestone potwierdzają lepsze osiągi modelu Turanza T005, który zastępuje aktualnie sprzedawaną oponę Turanza T001 EVO. Około 10 proc. wyższa trwałość nie tylko sprosta, ale także przekroczy oczekiwania kierowców. Warte podkreślenia są także znacząco lepsze wyniki dotyczące wchodzenia w zakręt na mokrej nawierzchni, hamowania na mokrej i suchej nawierzchni oraz obniżone opory toczenia.
[1] W porównaniu do czterech głównych konkurentów w tym segmencie: Michelin Primacy 3, Continental Premium Contact 5, Good Year Efficient Grip Performance oraz Pirelli Cinturato P7. Test przeprowadzony został przez TÜV SÜD na zlecenie Bridgestone w okresie od kwietnia do lipca 2017 na terenie ATP Papenburg, z wykorzystaniem opony o parametrach 205/55 R16 91V. Opony nabyte przez TÜV SÜD na rynku europejskim. Samochód wykorzystany podczas testów: VW Golf 7. Raport numer: [713112819].
Źródło: Bridgestone

{fshare)