Ruszyła druga edycja konkursu FIRESTONE Headliners of Tomorrow, który daje szansę wschodzącym gwiazdom polskiej muzyki stawiać pierwsze kroki na profesjonalnej scenie. Brodka wraz z pozostałymi członkami jury wyselekcjonuje TOP3 finalistów. To spośród nich publiczność wybierze zwycięzcę, który w lipcu zagra koncert na Firestone Stage podczas Open'er Festival.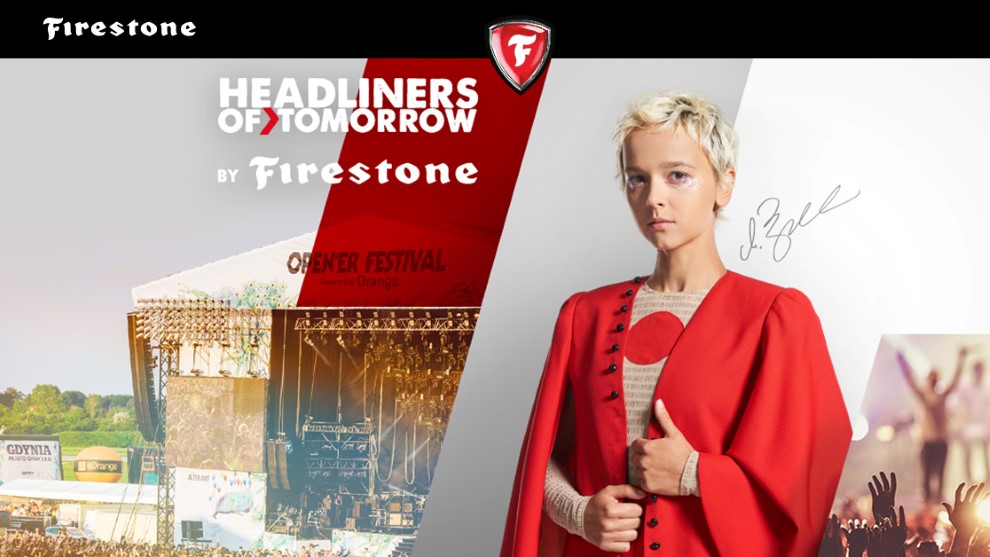 Firestone, legendarny producent opon samochodowych z niemal 120-letnią tradycją, już po raz drugi wyrusza na poszukiwania muzycznych talentów w Polsce. W pierwszym etapie konkursu, który potrwa od 15 do 22 marca, artyści będą mogli zgłaszać swoje nagrania w formacie audio lub wideo za pośrednictwem strony www.konkursfirestone.pl. Spośród nich jury konkursowe pod przewodnictwem Brodki wybierze trzech finalistów, którzy zostaną nagrodzeni profesjonalnymi wideo sesjami live oraz warsztatami doskonalącymi technikę występów na scenie z udziałem ambasadorki i jury.
O tym, kto zwycięży w drugim etapie zdecyduje publiczność za pośrednictwem internetowego głosowania. Na stronie konkursu zostaną opublikowane utwory wykonane podczas sesji muzycznych. To na ich podstawie internauci wytypują w drugiej połowie kwietnia zwycięzcę, który otrzyma tytuł Headliner of Tomorrow i zagra koncert na Firestone Stage podczas Open'er Festival.
"W ubiegłym roku udało nam się odkryć wielu fantastycznych artystów i mam wielką nadzieję, że druga edycja konkursu dostarczy nam jeszcze więcej świetnej muzyki i pozytywnych emocji. Bardzo się cieszę, że po raz kolejny będę miała szansę poznać nowych, zdolnych muzyków, dla których występ na Open'er Festival będzie dopiero początkiem długiej kariery. Przysyłajcie swoje nagrania, będziemy słuchać uważnie!" – mówi Brodka.
Do pierwszej edycji konkursu zgłosiło się aż 455 zespołów i wykonawców marzących o rozwoju kariery na profesjonalnym rynku muzycznym. W finałowym głosowaniu serca publiczności skradła hania rani, której emocjonalny koncert odbył się ostatniego dnia festiwalu.
"Udział w konkursie FIRESTONE Headliners of Tomorrow był niesamowitą przygodą, która wiele mnie nauczyła i dała mi możliwość występu na moim wymarzonym Open'er Festival. Wysyłajcie swoje nagrania, naprawdę warto!" – mówi Hania Rani.
Nagrody czekają również na głosujących. Wszyscy fani, którzy po oddaniu głosu dodatkowo uzasadnią swoją decyzję, otrzymają szansę wygrania jednego z 15 podwójnych zaproszeń na Open'era i upominków od Firestone.
Firestone łączy ludzi poprzez muzykę już od 1928 roku, kiedy to wyemitowana została pierwsza w historii audycja The Voice of Firestone. Nadawano ją w USA nieprzerwanie przez 35 lat, początkowo jako program radiowy, później telewizyjny. Dzięki niemu wielu wybitnych amerykańskich muzyków rozpoczęło swoją karierę. Jest on również inspiracją dla projektu "Firestone Headliners of Tomorrow", który daje szansę polskim, młodym artystom stawiać pierwsze kroki na profesjonalnej scenie.
Partnerami konkursu są Alter Art – organizator festiwalu Open'er oraz wytwórnia płytowa Kayax.
Siedemnasta edycja Open'er Festival odbędzie się w dniach 4 – 7 lipca 2018 roku w Gdyni, na terenie lotniska Gdynia-Kosakowo.
Źródło: Firestone