Zima jeszcze nie odpuszcza kierowcom i… akumulatorom. Jeśli Twój samochód nie odpala i brakuje osoby chętnej do zajęcia się tym problemem, pamiętaj, że jest kilka sposobów, dzięki którym akumulator nie odmówi współpracy o poranku – szczególnie, ale nie tylko, w Dniu Kobiet.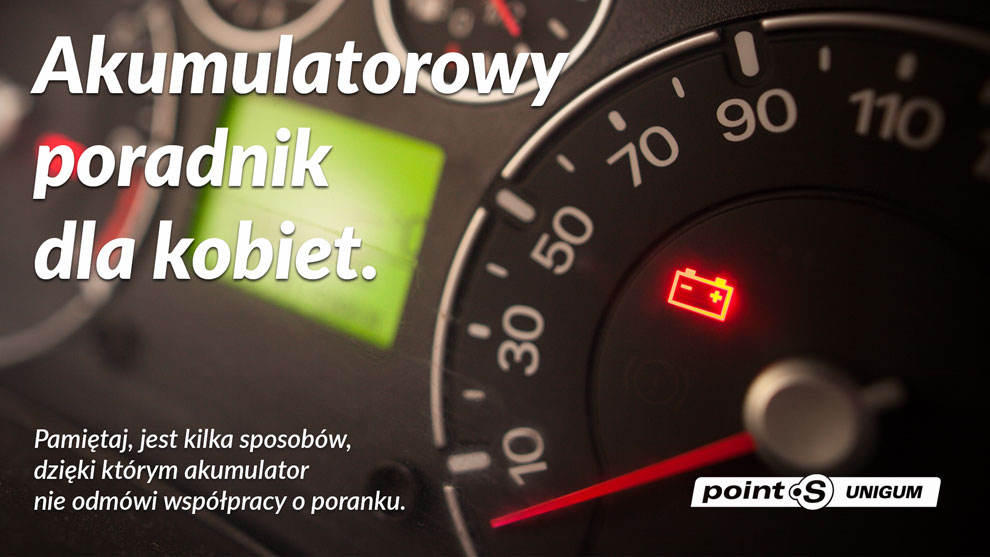 Miej go pod kontrolą
Już przy pierwszych oznakach rozładowania i problemach z rozruchem, należy sprawdzić akumulator. To proste, choć pod warunkiem, że akumulator nie jest całkowicie zabudowany, jak to ma miejsce w nowszych modelach samochodów. Zabudowany akumulator umieszczony jest w specjalnej skrzynce, której otwarcie wymaga najczęściej odkręcenia kilku śrub lub umiejętnego manewrowania elementami plastikowymi, które łatwo można uszkodzić. W tej sytuacji warto skorzystać z pomocy specjalisty. Tym bardziej, że najnowocześniejsze modele samochodów w przypadku wymiany lub całkowitego rozładowania akumulatora, często tracą ustawienia sterowników, np. radia, albo wymagają ponownej konfiguracji sytemu zarządzania energią i akumulatorem.
Jeśli jednak dostęp do akumulatora jest łatwy, to w szybki i prosty sposób możesz sprawdzić, czy rzeczywiście się rozładował. Wystarczy mieć pod ręką woltomierz, który po przyłożeniu do biegunów akumulatora wskaże poziom napięcia (powinno wahać się pomiędzy 12,4 V a 12,8 V – niższe oznacza, że akumulator się rozładował lub po prostu jest uszkodzony). W przypadku rozładowania akumulatora, możesz uruchomić auto przy pomocy kabli rozruchowych (potrzebna będzie jednak pomoc sąsiada i sprawnego silnika w jego aucie) lub wezwać taksówkarza z kablami rozruchowymi, który odpłatnie wykona taką usługę (w mieście to koszt ok. 20-50 zł). Ale jeśli mamy więcej czasu, to warto naładować akumulator w bardziej profesjonalny i rekomendowany sposób – przy pomocy prostownika.
Czy ktoś pożyczy prąd?
Uruchamianie samochodu na tzw. pożyczkę, czyli przez kable rozruchowe, to najpopularniejszy, awaryjny i szybki sposób reanimacji rozładowanego akumulatora. Wystarczy poprosić innego kierowcę o pomoc. Podłączenie kabli nie jest trudne: ustawiamy samochody przodem do siebie, upewniając się, że się nie stykają (mogłoby powstać zwarcie). Wyłączamy wszystkie urządzenia w naszym samochodzie, otwieramy maski, a następnie łączymy kablami nasz akumulator z sąsiednim akumulatorem. Najpierw podłączamy bieguny dodatnie (czerwonym kablem), a następnie czarnym kablem lub rzadziej niebieskim – nasz biegun ujemny z biegunem ujemnym drugiego auta (lepiej jednak połączyć ten kabel do tzw. masy, czyli do metalowej części swojego auta). Następnie uruchamiamy sprawne auto – dobrze jest na początku dodać nieco więcej gazu, aby podwyższyć obroty silnika, a tym samym przesłać więcej prądu do naszego samochodu. Po 2-3 minutach próbujemy uruchomić nasz samochód. Jeśli się udało, nie gasimy go, tylko odłączamy kable w odwrotnej kolejności (najpierw ujemne, potem dodatnie), zamykamy maskę i odjeżdżamy. Musimy jednak pamiętać, że takie awaryjne ładowanie dostarcza naszemu akumulatorowi jedynie prąd potrzebny do uruchomienia silnika, zatem jeśli mamy do przejechania niewielką odległość, samochód może ponownie nie odpalić, gdyż akumulator nie zdąży się naładować w czasie jazdy.
Proste ładowanie
Po uruchomieniu silnika przez kable rozruchowe nie mamy gwarancji, że akumulator się naładował, dlatego po powrocie do domu warto podjąć dalsze kroki zaradcze. Działanie samodzielne zakłada kontrolę napięcia akumulatora przy pomocy woltomierza i w przypadku wyniku wskazującego na niedoładowanie, użycie prostownika. – W przypadku starszych modeli prostowników konieczne jest wyjęcie akumulatora z auta, nowsze tego nie wymagają. Na rynku można zakupić inteligentne prostowniki, np. prostownik Exide 12/7, którego użycie jest intuicyjne i wygodne. Wystarczy podłączyć prostownik do akumulatora, wybrać rodzaj akumulatora, a urządzenie dokona reszty – dobierze odpowiednie napięcie i naładuje akumulator– wyjaśnia Krzysztof Najder, product marketing manager w Exide Technologies S.A. Jeśli jednak nie mamy prostownika, ani osoby, od której moglibyśmy go pożyczyć, warto wykonać diagnostykę i ładowanie akumulatora u mechanika.
Akumulator lubi delikatność
Każda czynność przy akumulatorze wymaga ostrożności, choćby z tego powodu, że akumulator (nawet rozładowany) jest pod napięciem i zawiera w sobie niebezpieczne, żrące substancje (elektrolit). Podczas ładowania może wytwarzać się wodór, dlatego nigdy nie robimy tego w pobliżu źródeł ognia (wodór z powietrzem tworzy mieszankę wybuchową), a zawsze w dobrze wentylowanym pomieszczeniu. – Nowoczesne rozwiązania w motoryzacji sprawiają, że dla niektórych osób naładowanie lub samodzielna wymiana akumulatora to duży problem. Dlatego coraz większą popularnością cieszą się akumulatory z wartością dodaną, czyli usługą uruchomienia niezależnie od miejsca, w którym akumulator odmówił posłuszeństwa. Centra Futura czy Exide Premium to akumulatory objęte całodobowym pakietem Assistance, który gwarantuje, że specjalistyczna ekipa dojedzie i uruchomi akumulator, nawet jeśli samochód stanął w przysłowiowym polu– mówi Krzysztof Najder z Exide Technologies S.A.
Źródło: Centra