Nowa opona Vision firmy Michelin stanowi ucieleśnienie niektórych z największych osiągnięć technologii oponiarskiej od ponad stulecia. Jest to opona koncepcyjna, która pełni także funkcję koła.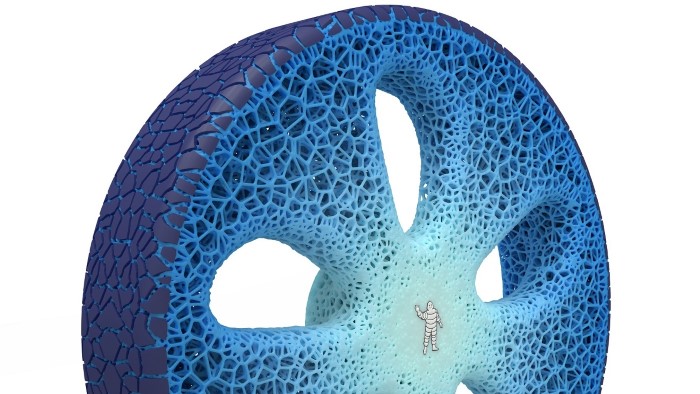 Niewymagająca pompowania, wykonana wyłącznie z ekologicznych materiałów, podłączona do Internetu, inteligentna, konfigurowalna i biodegradowalna opona koncepcyjna znajduje się w centrum uwagi na stoisku firmy Michelin we Frankfurcie.
Zaprojektowana, aby sprostać rygorystycznym wymogom przyszłych pokoleń kierowców, koncepcja ta stanowi podstawę wizji firmy Michelin dotyczącą przyszłości zrównoważonej mobilności i już dziś napędza rozwój produktów udoskonalanych przez wiodące w branży zespoły badawczo-rozwojowe firmy Michelin.
Jedną z najważniejszych zalet opony Vision jest to, że w ogóle nie wymaga pompowania dzięki wykorzystaniu w pojeździe rewolucyjnej struktury "pęcherzyków" (lub plastra miodu) inspirowanej naturą, oferując unikalny, zaawansowany poziom bezpieczeństwa, komfortu i trwałości.
Osiągnięcie tego przełomu było możliwe dzięki opracowaniu nowatorskich, wysokowydajnych składników pochodzących z szeregu naturalnych produktów, w tym słomy, wiórów drzewnych, pozostałości cukru, artykułów gospodarstwa domowego poddanych recyklingowi, a nawet skórki pomarańczowej. Materiały te wybrano ze względu na ich niski, nienaruszający równowagi ekologicznej wpływ na środowisko.
Nowa, pierwsza w świecie opona koncepcyjna Vision jest również konfigurowalna, dzięki czemu kierowcy mogą szybko i fachowo zmienić wzór bieżnika opony w centrach drukowania w 3D, dostosowując ją do jazdy zimą po śniegu, letnich autostradach lub w terenie.
Korzystając z wykonanej na zamówienie aplikacji Michelin, kierowcy muszą się po prostu umówić na spotkanie w najbliższym ośrodku "Print&Go" i zamówić dostosowanie opony do podróży. Ponieważ istnieje możliwość dodawania nowych warstw do opony w miarę jej starzenia, opona może być wykorzystywana tak długo, jak sam samochód.
"Mógłbyś pomyśleć, że to sen i miałbyś rację. To sen o przyszłości, ale realnej przyszłości", powiedział Terry K. Gettys, wicedyrektor generalny ds. badań i rozwoju w firmie Michelin. "Opracowanie opony, która będzie mogła być całkowicie poddana recyklingowi i biodegradacji, zajmie nam 10-20 lat".
Innym przełomowym odkryciem opony koncepcyjnej Vision, która jest chroniona przez 19 różnych patentów obejmujących proces produkcji aż po materiały, jest to, że jej organiczny rdzeń w ogóle nie wymaga koła i pompowania, więc jest w 100 proc. odporny na przedziurawienie.
Dzięki zaawansowanym technologicznie czujnikom wbudowanym w oponę Vision, podobnym do tych już montowanych w niektórych produktach Michelin, opona będzie się także łączyć z Internetem, informując kierowców z wyprzedzeniem, w czasie rzeczywistym za pośrednictwem aplikacji lub poczty elektronicznej o konieczności ponownej konfiguracji bieżnika zużytego podczas codziennego użytkowania, aby zoptymalizować bezpieczeństwo i komfort.
Z powodu rewolucyjnego procesu drukowania 3D firmy Michelin, produkcja i ponowna konfiguracja opon Vision będzie wykorzystywać minimalną ilość kauczuku, zmniejszając w znacznym stopniu ilość materiałów i energii potrzebnych w tych procesach.
Vision jest również wynikiem prac wszechstronnych grup fokusowych, w których uczestniczyło ponad 90 osób ze świata wyścigów, rolnictwa i motoryzacji. Opona nawiązuje także do doświadczeń pilotów samolotowych, kierowców ciężkich maszyn, a nawet dzieci, aby dowiedzieć się, czego będą wymagać od najlepszej opony przyszłość.
Unikatowym osiągnięciem jest opona Vision firmy Michelin maksymalizująca bezpieczeństwo, przyczepność, parametry eksploatacyjne, obsługę, jazdę i hamowanie we wszystkich warunkach, a także zapewniająca wygodę, trwałość i łatwość obsługi, a jednocześnie przyjazna dla środowiska i przyszłych pokoleń.
Opona Vision plasuje się na szczycie wizji firmy Michelin dotyczącej inteligentnej i zrównoważonej mobilności dla wszystkich.
Źródło: Michelin