Continental, producent opon, rozpoczyna seryjną produkcję wyświetlaczy przeziernych typu combiner do pojazdów ze stromo nachyloną szybą przednią w samochodach osobowych marki Mazda. Wyświetlacze będą montowane w modelach 2/Demio oraz CX-3 w ramach dodatkowego pakietu wyposażenia.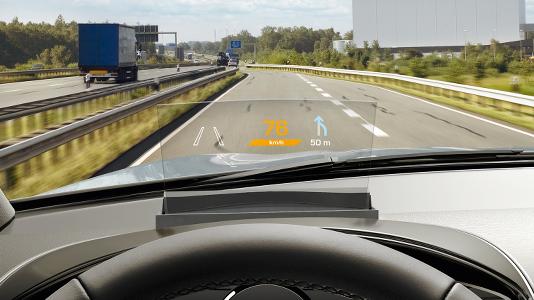 Wyświetlacz Head-up (HUD) typu combiner stworzony przez Continental jest niewielkim ekranem z transparentnego tworzywa sztucznego umieszczonym pomiędzy kierownicą a przednią szybą – idealnie na linii wzroku kierowcy. Dzięki temu nie zajmuje dużo miejsca w kabinie pojazdu, a informacje wyświetlane w kontrastowym kolorze nie stapiają się z tłem oraz są widoczne o każdej porze dnia i nocy. To rozwiązanie dzięki któremu kierowca, bez konieczności odrywania wzroku od drogi, otrzymuje kluczowe informacje dotyczące bezpieczeństwa jazdy, takie jak: aktualna prędkość z jaką porusza się auto, dozwolona prędkość na danym odcinku czy wskazania nawigacji.
"Chcemy, aby z naszych innowacyjnych produktów mogło korzystać jak najwięcej kierowców. Dlatego ten model wyświetlacza przeziernego jest znacznie mniejszy od wcześniejszych rozwiązań. Zajmuje niewiele ponad połowę miejsca wymaganego dla standardowego wyświetlacza HUD. Z racji tego, doskonale sprawdzi się w samochodach Mazda 2/Demio i CX-3. Niezmiernie cieszy nas fakt, że dzięki ergonomicznym zaletom, nasza technologia znalazła zastosowanie w tych modelach" - powiedział dr. Frank Rabe, head of the Instrumentation & Driver HMI business unit Continental.
Do tej pory wyświetlacze HUD były dostępne głównie w autach klasy wyższej oraz średniej. Dzięki wyświetlaczowi typu combiner również kierowcy aut kompaktowych i o sportowym charakterze mogą korzystać z tego rozwiązania. Nie tylko ułatwia ono prowadzenie, ale także ma znaczący wpływ na rozwijanie i doskonalenia projektu zautomatyzowanej jazdy. Jest również ważnym elementem realizacji idei bezwypadkowej jazdy, czyli Wizji Zero wspieranej przez innowacje Continental.
Źródło: Continental