Exide Technologies, uznany, międzynarodowy dostawca rozwiązań z zakresu magazynowania energii, na ostatnich targach Automechanika 2016 we Frankfurcie zaprezentował swoje najnowsze produkty.
Jedną z nowości jest przełomowy akumulator do pojazdów ciężarowych, kolejną – gama produktów do motocykli i pojazdów sportowych. Firma zaprezentowała również wiodące na rynku akumulatory do samochodów osobowych, w tym znaną już linię produktów typu Start-Stop. Exide, jako dostawca oryginalnego wyposażenia (współpracujący z wieloma wiodącymi producentami pojazdów osobowych i ciężarowych na całym świecie), kieruje swoje najnowsze produkty przede wszystkim na potrzeby rynku wtórnego.
Akumulatory Exide Start-Stop zostały zaprojektowane w dziale produkcji oryginalnego wyposażenia, a ich najnowsza generacja spełnia (lub przekracza) wymagania nowego standardu EN 50342-6 (2015). Coraz większa liczba pojazdów typu Start-Stop trafia także na rynek wtórny, a serwisanci, zakłady mechaniki samochodowej i sprzedawcy są coraz bardziej świadomi potrzeby właściwego doboru akumulatora, wykonanego w odpowiedniej technologii. Z prawidłowo dobranym akumulatorem Start-Stop (zatwierdzonym przez producentów samochodów) system Start-Stop pracuje z najwyższą wydajnością oraz zapewnia najlepszą oszczędność paliwa – co w rezultacie oznacza dla kierowców obniżenie kosztów eksploatacji tego typu pojazdów. Exide nie tylko dysponuje właściwą technologią, posiada także wiedzę w zakresie dopasowania właściwego akumulatora do konkretnego pojazdu oraz narzędzia do jego wymiany, które pomagają serwisantom obsługiwać ten rozwijający się segment rynku.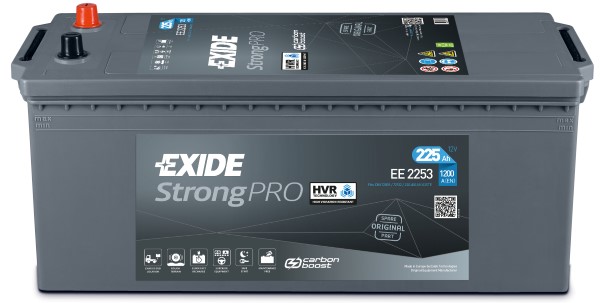 StrongPRO jest najnowszym akumulatorem Exide do pojazdów ciężarowych.Został wyprodukowany w technologii HVR®najnowszej generacji (wysoka odporność na wibracje) oraz w technologii Carbon Boost®(inteligentne rozwiązanie Exide przyspieszające redukcję siarczanów i ładowanie, a także wydłużające żywotność akumulatora).
Odkąd wprowadzono zbiornik AdBlue®, wspomagający dostosowanie pojazdów ciężarowych z silnikami diesla do wymagań regulacji EURO 6 (dotyczącej emisji spalin), wielu producentów samochodów ciężarowych przeniosło akumulator do tylnej części nadwozia, gdzie narażony jest na zwiększone wibracje mogące powodować jego awarie. Dlatego Exide stworzył unikalną technologię HVR®, która zabezpiecza akumulator przed wstrząsami i niweluje możliwość awarii, a akumulatorowi StrongPROpozwala przejść ekstremalne testy wibracji V4 (zgodnie z nowym europejskim standardem EN 50342-1 (2015)). Jest to jeden z pierwszych tego typu akumulatorów na rynku. StrongPROto większa niezawodność rozruchu, dłuższa żywotność i optymalizacja kosztów utrzymania floty pojazdów ciężarowych.
Firma Exide, podczas ostatnich targów, zaprezentowała także najnowszą linię produktów do motocykli i pojazdów sportowych w ramach oferty Exide Motorbike & Sport. Są to między innymi nowe, ultralekkie akumulatory Li-Ion (litowo-jonowe), wpływające na lepsze przyspieszenie oraz jakość jazdy. Akumulatory Li-Ionto produkt dla miłośników motocykli – sprawdzają się idealnie w użytku sezonowym, zapewniają szybki rozruch i doskonałą wydajność. Wieloletnie doświadczenie Exide w produkcji przemysłowych akumulatorów litowo-jonowych (jak dotąd używanych głównie w logistyce) okazało się niezbędne do wprowadzenia na rynek akumulatorów Li-Ion. Linia produktów do motocykli i pojazdów sportowych została zaprezentowana wraz z nowymi, atrakcyjnymi opakowaniami – zaprojektowanymi z myślą o klientach dokonujących samodzielnych wyborów zakupowych. Zalety oraz właściwości produktu opisane są na opakowaniu, a kod QR kieruje użytkownika na specjalną stronę internetową, zawierającą szczegółowe informacje o produkcie – daje to szereg korzyści także mechanikom i sprzedawcom (np. szybszy i trafny wybór odpowiedniego produktu). Oprócz najnowszych akumulatorów Li-Ion, linia produktów motocyklowych zawiera także wysokowydajne akumulatory typu: GEL, AGM Ready, AGMoraz Conventional.
– Odwiedzający stoisko Exide na frankfurckich targach byli zaznajomieni z nowym standardem EN 50342. Dlatego nasze produkty, które już teraz spełniają – a często nawet przekraczają – najnowsze wytyczne, spotkały się z pełnym uznaniem– powiedział Michael Geiger, wiceprezes ds. sprzedaży i marketingu na obszar Europy, Bliskiego Wschodu i Afryki w Exide Technologies. – Nowe testy sprawdzają wydajność akumulatorów na granicy możliwości, ale najnowsze produkty Exide potrafią im sprostać– dodał.
Źródło: Exide