System monitorowania ciśnienia i temperatury w oponach – ContiPressureCheck, będzie oferowany przez LOSTnFOUND jako zintegrowane rozwiązanie telematyczne.
Dzięki bezpośredniemu połączeniu sieciowemu systemów, dane o ciśnieniu w oponach będą wyświetlane na urządzeniach mobilnych kierowców, niezależnie od lokalizacji. System ContiPressureCheck™ zapewnia pomiar ciśnienia i temperatury w oponach w czasie rzeczywistym, eliminuje ryzyko kosztownych przestojów spowodowanych awarią opon, a także obniża koszty funkcjonowania flot.
Dostawca rozwiązań telematycznych LOSTnFOUND zintegrował swoje narzędzia z systemem monitorowania ciśnienia i temperatury ContiPressureCheckTM. W ramach współpracy pomiędzy firmami, dane ciśnienia i temperatury opon zbierane są w czasie rzeczywistym przez ContiPressureCheckTM, a następnie są umieszczane na interfejsie użytkownika LOSTnFOUND. Dzięki połączeniu sieciowemu systemów telematycznych, mierzone wartości mogą być odbierane na urządzeniach mobilnych.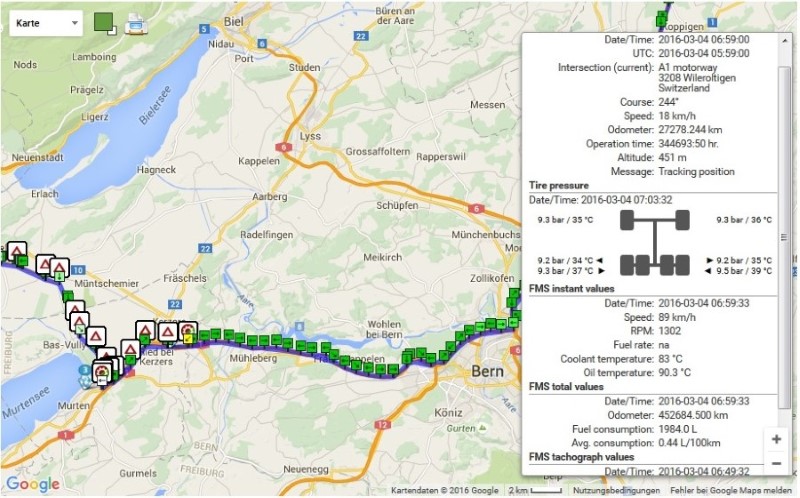 Integracja danych ContiPressureCheckTM w systemie telematyki LOSTnFOUND pozwala nam na obserwację poziomu ciśnienia w oponach podłączonych do systemu. To z kolei sprawia, że kontrola ciśnienia w oponach staje się jeszcze bardziej czytelna i przejrzysta dla kierowców i menedżerów flot, co upraszcza także proces monitoringu technicznego opon. Jeśli zmierzona wartość różni się od wartości ustalonej, system natychmiast wysyła ostrzeżenie za pośrednictwem poczty e-mail lub wiadomości tekstowej. Dzięki temu, możliwe jest natychmiastowe podjęcie działań. To pozwala uniknąć dodatków kosztów oraz czasochłonnych napraw- wyjaśnia Hartwig Kühn, manager ContiPressureCheckTM Continental w Hanowerze.
LOSTnFOUND oferuje zintegrowane rozwiązanie telematyczne pod nazwą "ConnectedTyre", a dzięki zainstalowaniu ContiPressureCheck™ dostarcza swoim klientom wydajne rozwiązanie, które optymalizuje zużycie paliwa i żywotność opony, a tym samym zmniejsza koszty eksploatacji floty.
W testach na naszym torze próbnym dowiedliśmy, że obniżenie ciśnienia w oponie zaledwie o 2 bary od zalecanego wystarczy, by zużycie paliwa na 100 kilometrów wzrosło o 0,7 litra. Co więcej, według naszych obserwacji, znaczna część samochodów ciężarowych porusza się dziś na oponach, w których ciśnienie jest za niskie średnio o 12%– podsumował Hartwig Kühn.
ContiPressureCheck™ to kompleksowy system bezpośredniego pomiaru ciśnienia i temperatury montowany wewnątrz opony oferowany przez Continental. Tak dokładny monitoring zapobiega przedwczesnemu zużyciu opon i zmniejsza ryzyko awarii, np. pozwala uniknąć wystrzału opony, czy separacji warstw opasania bieżnika. To rozwiązanie pozwala zatem na wygenerowanie realnych oszczędności i oszczędzenie czasu na nieplanowane wymiary. Co istotne, system znacząco poprawia również komfort i bezpieczeństwo jazdy.
Źródło: Continental