Bardzo krótka droga hamowania i wyższa przyczepność na mokrej nawierzchni na każdym etapie eksploatacji – to zdaniem wiodących na rynku niemieckim operatorów flot autobusowych najważniejsze korzyści z użytkowania ogumienia Continental.
Opona Conti Coach została doceniona za wysoką efektywność kosztową dzięki niższemu nawet do 3% zużyciu paliwa, natomiast model Conti CityPlus zyskał uznanie za zapewnienie optymalnego poziomu komfortu i doskonałe własności jezdne.
Constantin Batsch, Wiceprezes Regionu EMEA ds. Opon do Pojazdów Ciężarowych zauważył: "Przewoźnicy autobusowi działający w nieustannie rozwijającym się segmencie transportu regionalnego zmagają się z silną międzynarodową konkurencją, szczególnie na trasach długodystansowych. Dla nich najbardziej liczy się wysoki poziom komfortu i bezpieczeństwa, jaki mogą zaoferować pasażerom, oraz efektywność kosztowa - od zużycia paliwa aż po możliwość ponownego bieżnikowania opon. Ogumienie firmy Continental przeznaczone do autobusów spełnia wszystkie te wymagania."
Komfort, efektywność kosztowa oraz bezpieczeństwo to podstawowe wymagania, jakim muszą sprostać opony stosowane w autobusach i autokarach. Firma Continental oferuje szeroką gamę wysokiej jakości opon 3 generacji przeznaczonych do przewozów pasażerskich. Modele Conti Urban, Conti CityPlus oraz Conti Coach zaspokajają potrzeby przewoźników działających we wszystkich segmentach rynku - od komunikacji miejskiej, przez transport regionalny, aż po długodystansowe przewozy autokarowe. Każdy rodzaj opony został zaprojektowany pod kątem specyficznych warunków eksploatacji, tak aby spełnić oczekiwania użytkowników.
Oto opinie klientów na temat opon Continental przeznaczonych do autobusów i autokarów: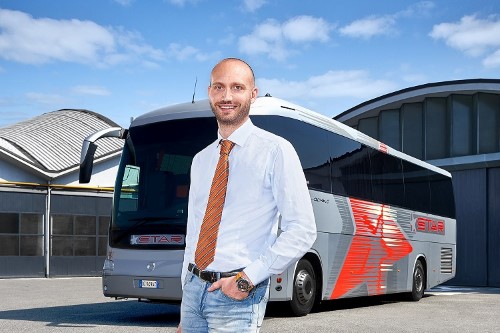 Wysoka efektywność kosztowa dzięki niższemu nawet do 3% zużyciu paliwa
Luca Montanaro, odpowiedzialny za zarządzanie flotą 130 pojazdów włoskiego przewoźnika autobusowego Star SPA, istniejącego od 1922 roku: "Nasza firma oferuje bezpieczny i wygodny transport pasażerski po przystępnych cenach. Własności użytkowe opon i bezpieczna eksploatacja przy wydłużonych przebiegach przekładają się bezpośrednio na wydajność kosztową całej floty autobusów. Od kiedy zaczęliśmy korzystać z opon Conti Coch, obniżyliśmy zużycie paliwa naszej floty do 3%."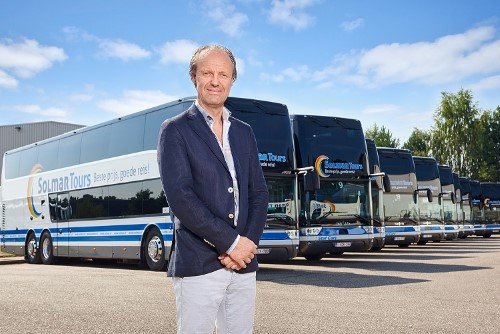 Doskonała skuteczność hamowania
Luc Meekers, odpowiedzialny za zarządzanie flotą ponad 100 autokarów belgijskiej firmy Staf Cars, założonej 1957 z siedzibą w Lommel, zauważył: "Oferujemy niezawodne, całoroczne połączenia autobusowe pomiędzy miastami w Belgii oraz poza granicami kraju. Potrzebujemy, więc opon, które będą charakteryzować się optymalnymi własnościami jezdnymi na wszystkich rodzajach dróg. Dlatego stawiamy na wysokiej jakości ogumienie firmy Continental. Zarówno modele Conti CityPlus, jak i Conti Coach zaskoczyły nas doskonałymi własnościami jezdnymi i krótką drogą hamowania na mokrej nawierzchni. Dzięki nim nasi klienci i kierowcy czują się zawsze bezpiecznie."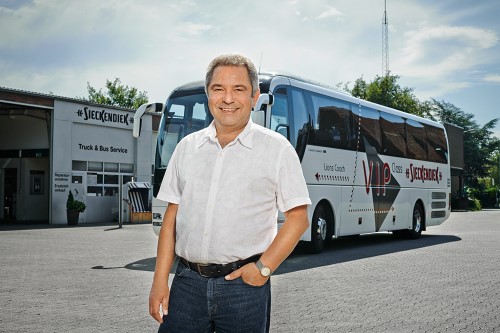 Wyśmienity komfort podróży
Ingo Kehl, Dyrektor Zarządzający Sieckendiek GmbH & Co. KG - przewoźnika autokarowego dysponującego flotą ponad 40 autobusów i autokarów oraz właściciela autoryzowanego serwisu firmy MAN z siedzibą w Versmold-Peckeloh, we Wschodniej Westfalii, w Niemczech: "Zawsze staramy się, by nasi klienci dotarli na miejsce bezpiecznie i o czasie. Dlatego bezpieczeństwo i jakość naszej floty autokarowej odgrywa w naszej firmie niesłychanie ważną rolę. Dotyczy to również ogumienia. Opony Conti Coach spełniają nasze wysokie wymagania: zapewniają ponadprzeciętny komfort jazdy, doskonałe własności jezdne oraz niski poziom hałasu – co doceniają również nasi klienci."
Dlaczego operatorzy flot autobusowych cenią opony Continental?
Conti Coach HA3
Przeznaczona do przewozów długodystansowych opona Conti Coach HA3, może być stosowana na wszystkich osiach. Jest dostępna w rozmiarach 295/80 R 22.5 oraz 315/80 R 22.5. Dzięki zastosowaniu mieszanki gumowej opracowanej specjalnie na potrzeby przewozów pasażerskich, oraz rzeźbie bieżnika z wytrzymałymi, trójwymiarowymi lamelami, opona ta oferuje wysoki poziom bezpieczeństwa i komfortu jazdy, przy zmniejszonych oporach toczenia. Podczas jazdy, opona Conti Coach HA3 zapewnia dobrą przyczepność wzdłużną i poprzeczną, wysoką stabilność kierunkową i precyzję prowadzenia. Dzięki innowacyjnej konstrukcji lameli charakteryzuje się też doskonałymi właściwościami na mokrej nawierzchni, podczas całego okresu eksploatacji.
Conti CityPlus HA3
Opona Conti CityPlus HA3, dostępna w rozmiarze 295/80 R 22.5, została opracowana dla potrzeb przewozów regionalnych i jest przeznaczona do montażu na dowolnej osi. Wyróżniają ją doskonałe własności jezdne, wyśmienita przyczepność na mokrej nawierzchni, bardzo wysokie przebiegi oraz równomierne zużycie bieżnika. Trójwymiarowe lamele zapewniają dodatkową przyczepność i niezmiennie dobre własności podczas hamowania w całym okresie eksploatacji opony. Opony Conti CityPlus HA3 posiadając homologację M+S przeznaczone są do całorocznej eksploatacji.
Źródło: Continental